The Mindy Project Season 3 Episode 12 Review: Stanford

Mary Kate Venedam at . Updated at .
A new year has arrived, and with that came changes for members of Schulman and Associates; particularly Danny and Mindy.
Mindy did not get the best start at Stanford but, eventually, she found her place on The Mindy Project Season 3 Episode 12.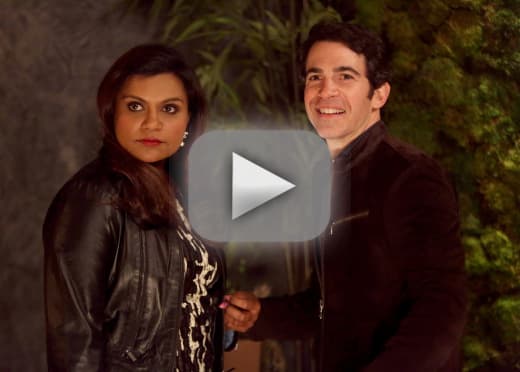 When Danny and Mindy arrive at Stanford, it was obvious how excited Mindy was. It was like watching a new college freshman arrive for the first time. Danny even filled the role as anxious parent. It was sweet to see that side of Danny because it showed how much he cared for her. 
Mindy took on Stanford by herself, but she did not have the best entrance. Luckily, Danny knew the professor Mindy embarrassed herself in front of. After insisting he not call in favors, Mindy called in Danny's help. An awkward double date began.
One of the things I love about The Mindy Project is how they throw in these popular guest stars without notice or for only one scene. "Stanford" featured Saturday Night Live alum, Ana Gasteyer, as the wife of Danny's friend/Mindy's professor, Rob. 
Make no mistake, the woman was miserable, but Ana Gasteyer played the bitter, drunken wife perfectly with her back-handed comments to her husband and, as Mindy referred to it, the under the table 'foot sex.' I almost wish we could've heard more from her. 
Danny: Take her to Alcatraz.
Mindy: Oh, I would love that. What is that?
Barb: It's the world's most famous marriage, I mean prison.
Mindy and Danny's fight in response to the double date, went 0 to 60 really fast. From Mindy calling Danny a cheater to him telling her she would not make it at Stanford, it almost happened too fast. I was not expecting it to go that deep. Danny even walked out on Mindy which, I think, was taking everything a little too far. 
One of the biggest truths out of the fight was when Danny voiced how much the fellowship is going to hurt him. Even through the fighting, it was sweet to see how much Danny will miss her during her time at Stanford. 
After everything, Mindy was able to get in her professor's good graces, even showing him how good of a doctor she really is. Of course, she had to semi-cause him to get hit by a golf cart on a bike, but that's neither here nor there. 
I had no friends in 7th grade, so I had time to master the cross stitch.

Mindy
It was good to eventually see Mindy find her way at Stanford without Danny's help. I guess, that was the moral of the story. 
Mindy: I had to sacrifice a lot, too. Like Neepa or Promud or Gamora or Groot or Rocket the Raccoon.
Rob: I think some of those are Guardians of the Galaxy.
On the right side of the coast, Morgan prepared for a basketball game. I had low expectations for this story but, the more it was told, the better it got. That is all in thanks to Jeremy. 
First, after obviously flirting with Morgan, Tamra finally learned he was seeing Jessica, thanks to the briefest of appearances by Julia Stiles. They found a way to cover up for Tamra's absence in The Mindy Project Season 3 Episode 11, when Jessica and Morgan first met. Though it seems out of character for Tamra to participate in Habitat for Humanity.
With that truth, Morgan's team, Morgan's Best Friends, went from Danny and Tamra to Peter and Jeremy. 
There is no doubt the funniest scene was seeing the completely unknowledgeable, Jeremy, learn how to play basketball while being beaten down by Tamra's new team, Morgan's Worst Nightmare. Jeremy may not have a lot of screen tie, but it's scenes like that that show how hilarious he can be. Put simply, Jeremy for the win. 
I've never played basketsball. I'm sure I'll pick it up. Who's going to be goalie?

Jeremy
This was a nice beginning of The Mindy Project for 2015. Both stories with Mindy and East Coast were well featured and equally entertaining. Here's hoping the new set up keeps up the good work. 
Do you think Danny walking out on Mindy was the right thing to do? Is a reunion in the cards for Tamra and Morgan? Will Mindy succeed at Stanford?. 
If you need to catch up on what has been going on with Mindy and company, make sure you watch The Mindy Project online via TV Fanatic. 
Mary Kate Venedam is a staff writer for TV Fanatic. Follow her on Twitter and on Google+.