The Real Housewives of Beverly Hills Season 5 Episode 10 Review: House of Cards

Christine Orlando at . Updated at .
In the unforgettable words of Lisa Rinna, someone got a liitle whackadoodle on The Real Housewives of Beverly Hills Season 5 Episode 10. We recap all the craziness in our +/- review.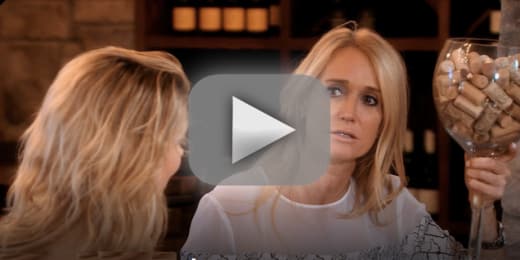 We've watched Kim Richards through the highs and lows of her sobriety issues which is what made her fall off the wagon all the more heartbreaking. Minus 50.
When Kyle's spa retreat to Santa Barbara ended with a wine tasting luncheon everyone worried for Kim but she really did seem to have it together. Plus 22. She even stepped out to talk on the phone while everyone else indulged. At that moment she looked strong and healthy.
How quickly things would change. 
The moment Kim got int he car with Lisa Rinna it was obvious that something was wrong. What a shock for Lisa. She's only ever known Kim sober. She's never had to deal with her crazy side. I didn't blame her when she said she wished she could have run from the car because Kim was acting kind of psycho. Minus 34.
Things only got worse at Eileen Davidson's poker night. Eileen's husband was damn near a saint as he tried to teach these ladies how to play Texas hold-em. As Eileen said herself in this The Real Housewives of Beverly Hills quote...
Poor Vincent, trying to teach these ladies how to play poker is like herding cats.

Eileen Davidson
And that was the easy part. It wasn't long before everyone realized something was up with Kim. The best twist was that at least Kim admitted it to her sister. Her ex-husband who is dying of cancer gave Kim some of his pills for her pain. Minus 60! 
I don't doubt for a moment that Kim's pain is real but it appears to be emotional not physical and although the pills might help in the short term, they're going to make the long term so much harder. 
The other question I had was, how many pills did Kim take but she was flying!
In Brandi Glanville's defense, I think she was actually trying to protect her friend and just get her home. Plus 15.
On the downside, getting in between two sisters is never a good idea. Shoving Kyle the way she did was uncalled for and I have no doubt that Kyle won't forget it any time soon.
I bet Lisa Vanderpump and Yolanda Foster are upset they missed out on all the fun...not!
Episode total = -107!  Season total = -277!                          
Don't miss a minute of the drama. You can watch The Real Housewives of Beverly Hills online here at TV Fanatic.
C. Orlando is a TV Fanatic Staff Writer. Follow her on Twitter.