Wine was throw, diamonds were criticized and a love song devolved into white trash on The Real Housewives of Beverly Hills Season 5 Episode 8. Leave it to Brandi Glanville to have numerous people wish she would just shut the hell up. 
Of course their words were a little more colorful...
Brandi had a lovely lunch with Lisa Vanderpump who decided to apologize to Brandi but equally decided that their friendship was not something she was willing to dive into once again. That said, they could be friendly and see where it goes. Brandi's hopes were high. Lisa's were not.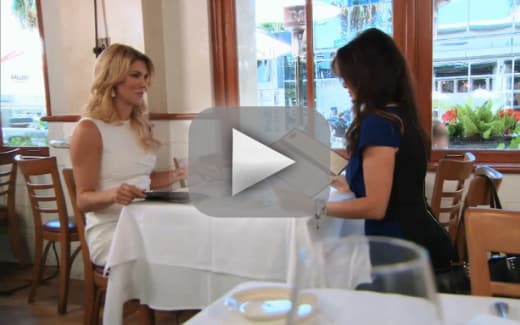 Later, Brandi went to lunch with Yolanda Foster, Lisa Rinna, and Eileen Davidson. Brandi's such a huge fan of Days of Our Lives that she pushed Eileen to perform like her character. When Eileen wouldn't, Brandi threw a drink in her face as encouragement. Check please.
At Yolanda's dinner party, Brandi apologized and offered a peace offering. Eileen accepted but was still fairly certain that Brandi's crazy. 
As if to prove the point, Brandi insulted Babyface and his wife over dinner and then turned David's attempt at composing a love song into talk of finger banging. 
To get the full effect, you'll have to watch The Real Housewives of Beverly Hills online here at TV Fanatic. 
C. Orlando is a TV Fanatic Staff Writer. Follow her on Twitter.