The Real Housewives of Beverly Hills Season 5 Episode 8 Review: Winning and Dining

Christine Orlando at . Updated at .
Let's face it, Brandi Glanville has issues and they were all on display in The Real Housewives of Beverly Hills Season 5 Episode 8. We recap all the drama in our +/- review.
But the drama didn't play out exactly where and when we'd expected...like with her long awaited lunch with Lisa Vanderpump...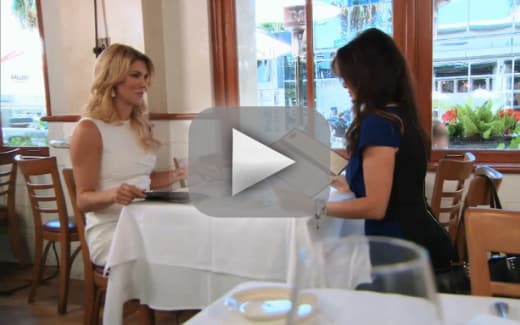 Plus 15. That lunch was actually quite calm compared to what came later. Heck, Lisa even apologized which was what Brandi kept saying she wanted. In truth, Brandi wants her friend back but that's not going to happen any time soon, if ever. 
Some may call Lisa stubborn but she's not about to let Brandi burn her twice, and we don't blame her. Fool me once...as they say. Plus 22 to Lisa for being smart enough not to jump back into this volatile friendship.
Brandi was saving her own special brand of crazy for newcomers Lisa Rinna and Eileen Davidson. Lunch seemed to be going so well when Brandi suddenly threw a drink in Eileen's face! Minus 43.
Was it just Brandi being a crazy soap fan? Was she seriously ticked off hearing Eileen's story about how she and her husband met while they were still married to other people? Or was it simply as Lisa Rinna put it in this The Real Housewives of Beverly Hills quote...
Lisa Rinna: Brandi, you're kind of f**king crazy.
Brandi: And cheers to that.
Even Brandi can't really argue the point any longer. Plus 10. At least she admits she's kind of nuts.
On the upside, Brandi was willing to admit she was wrong and apologized to Eileen at Yolanda's party. The necklace was a nice peace offering but it was all still a little weird. Even Eileen and Lisa admit that Brandi's neurotic enough to be an actress. Well, she's a reality TV show actress. Is there an Emmy category for that?
You'd think things couldn't get worse...then you don't know Brandi Glanville. 
At Yolanda and David's dinner party, Brandi chatted with Babyface and his lovely wife and told him that the wedding ring he bought his wife was much too small. Minus 33. Who does that? Or as Lisa Vanderpump put it...
That's like a man taking his clothes off and saying his penis isn't big enough. In your own words, shut the f**k up!

Lisa Vanderpump
But once Brandi's had a couple of drinks she's completely incapable of shutting her mouth and it only got worse. 
As David and Babyface were trying to compose a love song for their audience, Brandi asked David why his hand movements looked as though he's "finger banging" his wife. Minus 47. 
Lisa Rinna summed it up best...
If that's not some white trash, I don't know what is.

Lisa Rinna
Episode total = -76! Season total = -117!
You can watch The Real Housewives of Beverly Hills online any time here at TV Fanatic.
C. Orlando is a TV Fanatic Staff Writer. Follow her on Twitter.