The Vampire Diaries Season 6 Episode 11 Review: Woke Up With a Monster
Leigh Raines at . Updated at .
Kale smoothies and Kai Parker made for an interesting winter premiere on The Vampire Diaries Season 6 Episode 11!
However, Kai's presence unfortunately illuminated just how much trouble everyone is still in. Also, we're down one daylight ring, but Elena also somehow developed a sense of humor, so maybe it balances out?
Let's break down the episode...
Elena comes to at the Mystic Grill after Kai murdered the owner because they were already closed to customers. Matt Donovan made a great point:
22 hours and 18 minutes, that's how long supernaturals have been allowed back in Mystic Falls again and I already know someone who's dead because of it.

Matt
However, it's really just one person to blame this time: Kai. He kidnapped Elena to be his guinea pig for testing magic before his big showdown with Jo. Kai might be a total sociopath who has absolutely no remorse for anybody he hurts, but he definitely feels a joy in pissing people off. 
I guess in that respect he isn't totally emotionless, just a complete psychopath. He could easily have taken somebody else to experiment on, but he wants to piss off Damon and hurting Elena is the best way to do that.
Hey, at least he's an entertaining villain who makes Ricki Lake references! God forbid we ever forget how much time he spent stuck in the 90s.
Speaking of the 90s: what's going on with Bonnie?
I missed Bon-Bon this week. Did everyone completely forget about getting her back? I didn't. I know there are probably more pressing things at hand, like the Hogwarts magic camp Damon is running over at the Salvatore mansion.
You actually think I'd watch this sober?

Alaric
Thank goodness Luke came to his senses and blew off his dad. Although something tells me it's not the last we've seen of Mr. Parker. The Parker kids need to figure out a strong plan.
Jo needs to get stronger and I'm not sure it's going to happen. Plus, and I feel like I've said this before, would the writers really kill off another one of Alaric's girlfriends? I hope not. That poor man has been to hell and back. Almost literally.
While I'm enjoying the Stefan and Caroline friendship being back on track, I worry about Caroline. That was WAY too fast for her to come to a conclusion regarding the use of vampire blood to treat cancer. There was no telling how that guy would react in just a few short hours.
So I've seen a lot of debate in the comments and on The Vampire Diaries Round Table about the whole Liz having cancer storyline. Lots of fans fear that the writers are using it to push Stefan and Caroline together as a couple. While I'm not sure if that is going to pan out, I'm at least glad that the friendship is repairing itself.
As a storyline, the writers actually took something very relatable to audience members and are using it as opposed to vampire/magic problems only. I don't necessarily think it was a bad idea to introduce something that so many people in this world experience.
How many people can relate to Caroline's desperation to find a cure for her mother? A lot.
This is an emotional storyline viewers can really get invested in as opposed to watching Damon and Elena will they/won't they for the thousandth time. It's also a really interesting idea regarding using vampire blood to heal diseases. I'm kind of interested in seeing where that goes. As long as it's NOT just a way to get Caroline and Stefan to hook up.
I really did love seeing Damon wake up in Liz's room. They've come such a long way over the course of the series.
Liz: I paid extra for this room to be a single.
Damon: You clearly underestimate the number of women who would die to spend the night with me.
Liz: Well I'm not dead yet.
Lastly, we have the introduction of Sarah Nelson, or as we know her: Sarah Salvatore. Here's hoping that whatever Enzo is going to do with all of her paintings and following Stefan to Duke is actually going to get interesting. 
Catch up on life in Mystic Falls when you watch The Vampire Diaries online. Also hit the comments with your thoughts on the TVD winter premiere.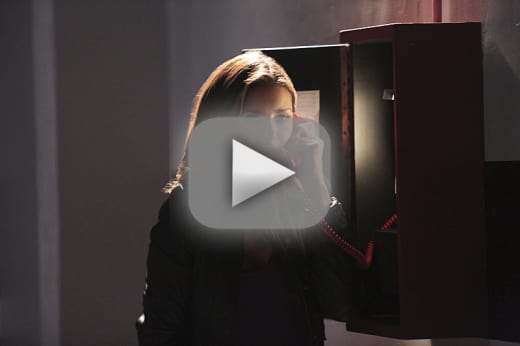 NOTE: The Vampire Diaries Season 6 Episode 12 will be titled "A Prayer for the Dying" and here is your first look: