Chasing Life Season 1 Episode 15 Review: April Just Wants to Have Fun
Paul Dailly at . Updated at . Comments
Poor April.
Chasing Life Season 1 Episode 15 was all about our favorite character April, wanting to have fun, or was she trying to please her best friend?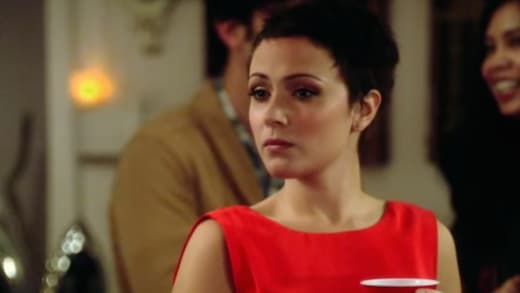 Picking up from were we left off on Chasing Life Season 1 Episode 14, Beth warned Natalie and Dom off each other. I think we all knew that wouldn't stop them. It seems even Beth was as confused as us by Dom commenting that Natalie looked familiar. April had shown him a picture. That makes a lot more sense than the two of them looking similar.
The characterization of Natalie has been really well done. She has become an integral part of what makes the show so fun, and I hope she sticks around for the foreseeable future. Let's get something out of the way. Natalie and Dom have every right to continue on with their fun, or whatever they want to call it. April moved on, so why shouldn't they?
April being upset that Beth and Natalie were spending so much time together was just downright stupid. I don't know what she expected. She was the one who got Natalie the room at Beth's house. Did she expect them to not speak at all? Natalie isn't the type to not party and April knows this.
Even when April forced herself to go out after discovering Beth lied to her, the jealousy still shone through when Natalie sat with them. April tried to take control of the theme for the party, as if she lived with them. April needs to understand that she isn't a normal 20 something. That's part of what Leo succeeded in doing last summer when she was initially diagnosed with cancer.
Beth: I've hardly seen you tonight.
April: Well, maybe if you weren't up Natalie's butt we could have hung out more.
The argument between Beth and April was the best scene of the hour. I was shocked by the zings the two of them were throwing at each other. It was a bit frustrating that they made up the next morning. I guess this is a testament to how strong their friendship is, but it would have been fun to see this play out a while longer.
Beth: April, what is going on with yourself? You're embarassing yourself.
April: You're the one dancing around like some trashy girl from Florida.
Beth: Okay, what is your problem with Natalie?
April: Okay, let's see, she kissed my ex boyfriend for starters.
Beth: Yeah, your ex boyfriend and it was an honest mistake by the way.
April: Was it an honest mistake when you lied to me about going clubbing with her the other night. Thanks for the invite, by the way.
Beth: Wait, why would I invite you? April, we went to the same club earlier that night and you wanted to leave.
April: Well, I'm sorry Beth. Is my cancer inconveniencing you?
Beth: You know what. It is, actually.
April: Well, I must be out your way so you can enjoy your party.
Beth: Really April, you're going to make me feel guilty after how much I have been there for you? Taking you to doctors appointments. Staying in whenever you don't feel like going out and literally dropping everything the second that you need me.
April: I get it. I'm a huge burden.
Beth: Oh mu god, I'm not talking about you right now. I'm talking about me, for once. I need time for myself, too.
April: Then it's a good thing you found your soul mate in Natalie. Have fun taking dumb selfies together.
If Natalie and April's relationship continues to get more strained, will Natalie still give her the bone marrow? April clearly isn't just going to be ok with Natalie dating Dom. That much we know.
Elsewhere, Brenna returned to school and found herself being picked on. It was exciting that Ford and her became friends again and went on the war path against the mean girl in their health class. Ford has genuinely had time to perfect her witty jokes over the break from school. She was very annoying earlier on in the series, but could that have been because she was getting in the way of Brenna and Greer? Quite possibly.
Greer has obviously had a tough time with her parents if we are to believe what she was saying to Brenna. Brenna was also going through a horrible time, but Greer didn't have her back. Although I like Greer and think these two need to find a way to rekindle their love, It was mature of Brenna acting like she didn't need her and didn't ditch another class for her. She really needs to get her priorities in order.
Sara: No one listens to me.
Brenna: What'd you say?
Also, Leo got a job. Yes, the entitled guy who you couldn't ever imagine working actually got a job. This was all brought on by the speech from Sara at lunch. It was almost like she was trying to find out if he planned on hot footing it back to Europe some time soon. Rightfully so, she deserves to know that her daughter isn't going to have her heart broken. It was a little worrying that Leo could barely see the register. Is he really out of the woods, or was this a panic attack?
Both Sara and Leo really hit it off. With all the other drama in her life at the moment, at least April's mother and boyfriend have reached common ground.
"April Just Wants to Have Fun" was the best episode of the series. It had the right mix of drama, comedy and fine acting. The show has improved a lot in the last few weeks and it leaves me excited about where it will go from here.
Other bits from the episode:
April's antics at the party were hilarious. From her singing, to calling the neighbor nerd, April was on top form.
Where has Raquel been? With all the funny one liners, she'd have been the icing on the cake.
It was really good to see April hungover and how she tried to pass it off as her cancer to Danny. The guy looked embarrassed.
Sara not knowing what a meme was. The poor woman looked so damn confused.
Remember you can watch Chasing Life online, right here on TV Fanatic. Get caught up on all the drama now.
What did you think of the episode? Do you think April was right to be jealous of Beth? What's next for Brenna and Greer? Hit the comments below with your observations.
Paul Dailly is a staff writer for TV Fanatic. Follow him on Twitter.