Chicago Fire Preview: Taylor Kinney on Investigating Shay's Death, Another Big Crossover
Jim Halterman at .
Crossover mania!
what The only thing better than Chicago Fire and its spin-off, Chicago PD, is when they crossover in a two-part event  - and that's exactly we're getting tonight.
The hunt for the arsonist who killed Shay is about to be on, with Severide and Dawson leading the pack to close the chapter on the death of their friend.
It was a good time, then, to bump into Taylor Kinney and talk about Severide's mission, along with how it could end up bringing up a new career move for him.
Let's see what he had to say about this week's crossover of Chicago Fire Season 3 and Chicago PD Season 2...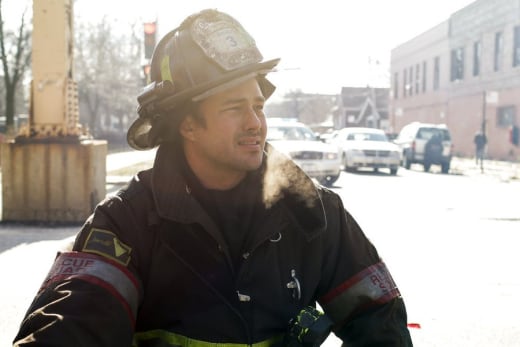 TV Fanatic: You've had a good, intense season so far this year, primarily because of Shay's death. Do you feel challenged differently?
Taylor Kinney: Definitely. You know, you watch these characters evolve over seasons one, two, three and I think we're at a point where you can introduce a really heavy storyline and say 'okay, this is a character dealing with something and let's go in there and get gritty and try to get the most out of this.' I think that's what has happened. I certainly miss that character. I miss Lauren.
TVF: What are we seeing moving forward since the hunt is on for Shay's killer?
TK: I go out with Monica Raymund's character and I feel like we do a better job of investigating this arson than the unit is supposed to do. And there's a personal interest there, too, because we want to find out what happened and expedite the process in the meantime. So we go out. I find something and we find out that maybe this is not an accident.
The cliffhanger at the end of season two, it turns out that maybe that was on purpose and maybe we're dealing with a serial arsonist at worst. We follow the trails of that and go on. I actually turn out to be pretty good at details and looking for that so I get a proposition or two to join an arson team. We'll see what happens but it's been great. I've loved this season. I've loved playing this storyline and I've loved working with Monica Raymund. She's a great actress and you work with other people like that and it's inspiring. I hope to work with her more and not only that but on a personal level for the story, I hope to find out who killed my friend.
TVF: Safe to say that Severide needs this to heal from the loss?
TK: Yeah, it's up and down but that's true to life. Nothing is black and white, cut and dry. We don't always have all the answers, especially dealing with a loss. Sometimes you go through moments of clarity where you feel like 'Okay, I have a resolute vision and direction' and then sometimes you throw your hands up and say 'what's the point?' And then with reckless abandon you do things that maybe you normally wouldn't do. It's really hit home.
Listen, I hope to be doing this for a long time, the show, and the storylines this year, hats off to the writers and NBC in general.
TVF: This is all heavy but are there some moments of levity for Severide moving forward?   
TK: In terms of the show, I've always been a big proponent of that. Unless you have that, unless you have something to offset the heaviness, then it can be one dimensional and we're certainly not that. Watch Christian Stolte (Mouch) and Yuri Sardarov (Otis) and these guys and they bring a lightness. They have their own arcs and storylines but they're also hilarious at times. You have to incorporate that. As for Severide, between you and me and the microphone, I try it every now and then. I'll try something. Maybe it's funny but it ends up on the cutting room floor. [laughs]
TVF: With any investigation comes a threat of danger. Is there any of that coming for Severide? Maybe something we'll see in the crossover?
TK: Yeah! And I think that's what comes into play with the interaction with the PD gang and us. We have this new episode coming out and some of it translates over to PD and it's an event. As for the crossovers, I feel like they've worked phenomenally. I love doing it, I feel like the transition is seamless and I feel like the fans really dig it so I hope to do more of it.
Chicago Fire Season 3 airs Tuesdays at 10/9c on NBC. Chicago PD Season 2 airs Wednesdays at 10/9c on NBC.
Jim Halterman is the West Coast Editor of TV Fanatic and the owner of JimHalterman.com. Follow him on Twitter.