Constantine Season 1 Episode 13 Review: Waiting for the Man

Henry A. Otero at . Updated at .
That certainly was one hell of a twist wasn't it? When Papa Midnite told John someone close would betray him, I had no clue who it would be.  
It didn't seem possible Chas, Zed or Manny could betray him right? Well Constantine Season 1 Episode 13 gave us the answer while simultaneously setting up Season 2. Shame this season wasn't a few episodes longer; it felt like something was missing (a Newcastle flashback perhaps?).
Whether the series stays on NBC or makes Syfy its new home, there are just too many great stories to tell to stop now. Fingers crossed Hellblazers!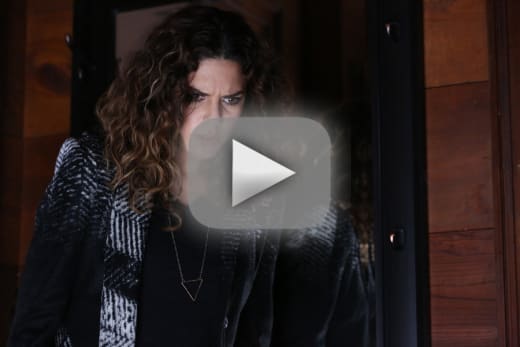 Again, I was shocked by the gruesome subject matter NBC tackled in the finale. Not so much the Satanic killer, but the ridiculously young wives recruiting future brides for "the man." The way the polygamist caressed those girls made my skin crawl.
The carnival setting and Bear McCreary's brilliant score provided a particularly spooky atmosphere this week. I'm not sure any episode prior to this one has been this unsettling, and the show's dealt with some seriously nasty stuff.
Amberly: Are you lonely?
Vesta: I snuck out of the house. Me and my momma was arguing again. How come ya'll are out so late.
Caroline: He lets us do whatever we want.
Vesta: Who does?
Waynetta: The man.
Amberly: We're married to him; all of us.
How freaky was it when Vesta asked to see the girl's wedding rings and they revealed marks around their necks. Later on, I could almost smell the decomposing bodies in that house. The whole episode just had this ickiness to it didn't it?
I'm still not quite sure why Vesta would agree to marry the man. Didn't the situation seem the least bit bizarre to her? Were the choke mark's a red flag something was up? Better to just blame it on naiveté and move on I guess.
I enjoyed checking in with Jim Corrigan again and New Orleans is the perfect setting for these type of stories isn't it? It's gorgeous by day, but there's no denying the mystical energy the city gives off at night. Especially at those above ground cemeteries and mausoleums, which are creepy in their own right. During my interview with Matt Ryan, he shared a fun story about the creepy factor.
John: The girls were taken by a Satanist.
Zed: Why? What does he want them for?
John: A full moon symbolizes rebirth, but the blood moon most likely sacrifices to usher in the new cycle.
That corpse sitting up and Gary Lester speaking through it got a nice jump out of me; both times I watched the episode actually. I wasn't expecting that, but it was cool.
Papa Midnite was another character I really enjoyed this season. It was fantastic to see him return and behave even more viciously than I remember. He's very much the yin to John's yang and I dig that.
The voodoo zombie was dispatched pretty easily, I prefer when Midnite shows up and gets his hands dirty anyway don't you? Michael James Shaw was fantastic as Papa Midnight, better than Djimon Hounsou's movie version, I'd say. 
John's toothbrush/hair trick was absolutely nuts but, hey, it worked, right? The visuals were neat, too.
John: Tibetans call it piercing the veil. DNA, the right words, a dash of cardiac arrest and it gets you into the Bardo state. Allows you to connect with the subjects spirit.
Jim: And? What'd you see?
John: I saw through her eyes. She went outside, down the street and... I know where she was taken from.
We were treated to a couple more of Zed's "Spectre" visions, complete with green aura. Wouldn't it be a shame if the show doesn't return and we're left wondering how the creative team might have brought The Spectre to life? Come on NBC, that's something we all want to see.
Zed's all too convenient vision of our killer complete with his home address bugged me. Good thing he and his "brides" were elsewhere. "The man" gave me the willies, we've seen all kinds of monsters and demons, but man is always the worst of them all isn't he?
I couldn't believe Papa Midnite shot John and in the head... what?!? Yup, the writers got me with that glamor spell; nice job guys. It's those little tricks that keep us guessing and make the show so much fun.
In the end, John saved Vesta and convinced Jim the monster didn't deserve to live. That was rough, but it didn't surprise me; it was justice for those poor girls. Zed came clean with Jim about her vision; again, I hope we get to see The Spectre next season.
The real surprise was Manny's betrayal. A great job was done misleading us when it came to Manny. Did you expect Manny to be evil? If the brujeria work for him, so does that make Manny the devil? All questions for a potential Season 2, so make it happen NBC or Syfy! The show's loyal audience will follow Constantine anywhere. You can bet your ratings on that.
What did you think of the Season Finale "Waiting for the Man"? How about the first season over all? Are you hoping the series returns next year? You're up Hellblazers, hit the comments and share your thoughts with me below.
As always, don't forget you can watch Constantine online via TV Fanatic. Miss the season? Well, it's the perfect time to binge-watch it!