Elementary Season 3 Episode 14 Review: The Female of the Species

Tanya Moat at . Updated at .
Hell hath no fury like a woman put behind bars or has her revenge thwarted on Elementary Season 3 Episode 14.
We pick up just a few days after the shocking murder of Joan's soon-to-be-ex but now dead boyfriend, Andrew. We spend zero time finding his killer because she is merely a delivery mechanism.
The real killer was Elana March. You may recall Elana from the season premiere, Enough Nemesis to Go Around. It appeared that she was still holding a grudge against Joan for her incarceration.
Life in prison must give a gal plenty of time to think about revenge, although a few hints prior to this episode that a "rivalry" still existed between the two of them would have been nice.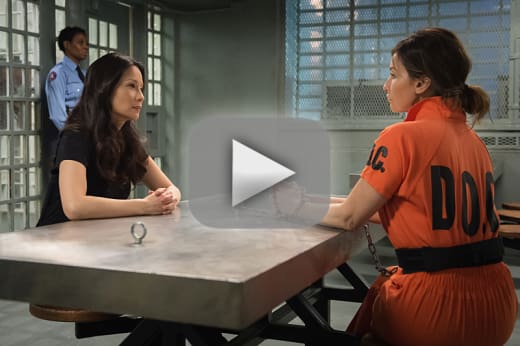 Elana was an interesting foe with her cat and mouse conversations with Joan in the season premiere, so I was looking forward to more verbal duels, which, unfortunately, only happened once.
How can you be so naive? If he was involved with you, he was involved with me.

Elana
In fact, we didn't spend too much time with Joan as she was still processing Andrew's death and not back to work. Of course, the fact that Miss Lucy Liu directed her first episode of Elementary tonight may have had something to do with her limited role too.
Knowing this, it now makes sense why this wasn't the intense manhunt for Andrew's killer that many of us probably expected. Instead, it was more of a quiet episode with Joan having several important revelations, which were aided by a surprise ending. This seems to be Elementary's modus operandi of late, and it was done so well tonight that you'll hear no complaints from me.
However, it did surprise me that the main investigation revolved around pregnant zebras being stolen, which is kind of a letdown when you were expecting an edge-of-your-seat type of show. I was far more interested in Elana March and why she decided to strike against Joan now.
Missing zebras seemed dull until Sherlock Holmes said "zebra". Or more like zeb-ra versus zee-bra. I am a sucker for a good accent.
It still wasn't a particularly interesting investigation, even with formerly extinct animals being reborn, but it was fun to see Sherlock and Detective Bell partner together. 
Bell: What am I missing?
Holmes: Everything that matters.
Sherlock wouldn't be Sherlock if he wasn't blunt or borderline rude at all times. Given their past history (Bell getting shot), they ended in a place of mutual respect, although Bell is probably looking forward to Joan's return.
And there is no doubt that Joan is coming back. 100%. She is ready to be Sherlock's partner again.
Joan: I feel ... okay. I feel clear about something. Our work ... what we do ... it's not just a job now. It's who I am. I'm a detective. I'm ready to embrace that. I live in this world. Your world. And I probably will for the rest of my life.
Sherlock: It isn't my world. It's our world.
She no longer craves a normal life or worries about losing herself in Sherlock's world. She is ready to be the true Watson to his Holmes. A little part of me squealed with joy, although Holmes would probably not appreciate such an emotional response.
The one thing that bothered me a teensy bit was her belief that embracing being a detective meant losing a part of herself. It's why she pulled away from Sherlock last year. She wanted something of her own. It always seemed to me that working with Sherlock actually helped Joan find herself.
We are now back to where we started with the two of them living under one roof and partners once again. It will be interesting to see how their relationship is different than before.  
Now let's talk about the surprise ending. I figured Elana's return signaled some sort of larger arc on the show. Perhaps, even being the big bad that I've been wanting all season. I was wrong. So wrong. Never have I been so happy to be wrong.
Elana March might still haunt Joan's nightmares, but not her reality. Someone else had a vested interest in Joan and didn't take kindly to someone threatening what she still wanted to play with. That's right. The biggest bad had Elana killed and Moriarty is back in the game.  
What did you think of tonight's episode? Were you surprised by the Moriarty tease? Are you glad Joan is moving back into the brownstone? Let me know in the comments below. Don't forget that you can watch Elementary online via TV Fanatic to get caught on all of Holmes and Watson's adventures.