Episodes Season 4 Episode 5 feels like more of the same but, just like the rest of the season, it's a strong outing nonetheless. 
Watching Matt's stunned reaction to a grocery list of his possessions being stripped is always priceless.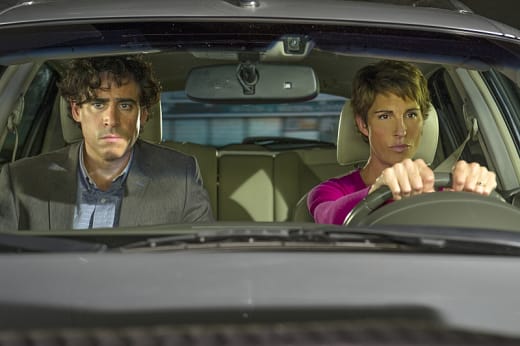 By more of the same, I mean that tonight's installment didn't seem to make much progress story-wise. Matt's still dealing with the aftermath of his ex-financial advisor's side hustles, Sean and Beverly are still dealing with Tim, and Helen and Carol are still in their honeymoon phase. 
That's not to say no headway was made – Sean was finally able to lay down the law, and force the studio to choose sides. If all Tim wants is a way into the industry, than why not sit back and let Sean and Beverly do all the work? I'm sure it would be more fun to torture the woman who stole your ex-writing partner from you, but is it really worth the hassle? 
Tim: Have I touched a nerve?
Beverly: No! You have have a nerve!
It's not like Beverly would take the harassment sitting down, either. She had a her own share of sharp one liners that repeatedly kept Tim in his place. Although it would be hilariously awkward to watch all three work on the show, I think there's just as much entertainment to be found in both of them actually getting to run the show of their dreams.
In the the meantime, while everyone else struggles with financial issues, sexual field trips down memory lane, and getting control of their dream, Carol and Helen seem to be coasting through the eye of the storm. They're like a great power couple at the moment, the worst side effect of the relationship being some occasional distractions when things get heated between the two, but I wonder how things will look down the road. 
As for now, they can even bond over Merc's sweaty toupee and his resemblance to a sack of potatoes when the, well, sack. 
Helen: Oh and this was back when he still had his troupe. At one point it came off - yeah. I looked down, it was like this wet, little, ferret on my stomach.
Carol: Oh god!
Helen: And, at the end, because it needed to get worse, he came on a picture of my kids.
Gross.
David Schwimmer's cameo at the end was awesome, and it served as another way to knock Matt down a peg or two. That seems to be the general gist of this first arc of Episodes Season 4; bring Matt LeBlanc back down to Earth.  I wonder if any other Friends co-stars will guest star, or if they'll play any reoccurring roles. It could only add to the hilarity in my opinion.
Watch Episodes online to watch again as Matt realizes how much he's grown since his forgotten time with Morning. Morning's lost tapes (no Nas), revealed just how little age has effected the silicon actress, and just how cruel it's been to our protagonist. Also, feel free head over to Episodes quotes for more highlights. 

Make sure to leave any comments or thoughts down below!