Forever Creator Matt Miller Teases Abe/Adam Past: Could Anonymous Caller Be an Ally?
Jim Halterman at .
Adam is back.
Since the midseason finale of Forever, we haven't seen much of Adam, the man who has been taunting our main man, Henry, throughout Forever Season 1.
We know that Adam, like Henry, cannot die - but in Forever Season 1 Episode 14 we may start looking at Adam in a different light.
As creator Matt Miller told me recently, this week's episode reveals something about Abe's past during World War II ... and Adam seems to have something to do with it. Do Adam and Abe actually know each other? Is it possible that Adam is more ally than foe?
Let's see what Miller had to say about one of our new favorite dramas this season...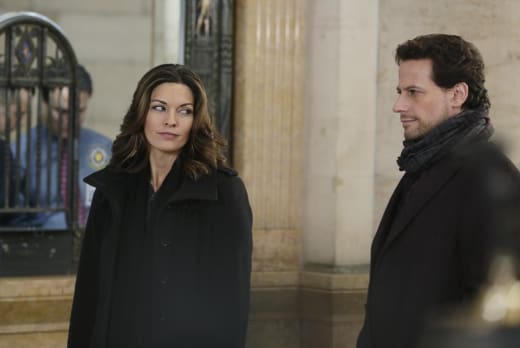 TV Fanatic: So tell me what we're going to see with this week's episode.
Matt Miller: The episode is called Hitler on the Half-Shell and it's an episode about a Nazi Art Heist gone wrong. It's a very emotional episode because what happens is it brings up some of the past for Abe. So things that he doesn't know about his past and Adam, our anonymous caller, returns in that episode and he's fabulous in it.
But he comes and we learn that he has a sort of unique connection to Abe and to the past and to World War II and is actually able to fill in some blanks for Abe and things that he didn't know. So, whereas, Henry saw Adam as his arch enemy, we try and buy Adam back a little bit so he doesn't seem so mustache-twirly and he helps Abe sort of piece together some things, very emotional.
TVF: Does Abe actually know him?
MM: No.
TVF: Or cross paths with him?
MM:  I don't want to give anything away but he has a unique connection to Abe, that Henry nor Abe knew about.
TVF: I still love that reveal in the mid-season finale that Henry's therapist is Adam so I'm glad we're seeing him again.
MM: Right. Well we brought him in, [actor] Burn Gorman, and it was like, 'okay, how do you bring a guy in and then not think that it's him?' So we brought him in as the therapist and then he was doing a British accent, which is actually his native tongue, and so he was able to do that, and then we had pictures on the wall of his family just trying everything we could to kind of minimize it. But then by the end, we wanted the audience to have that twist.
TVF: So, getting into this next episode, how is Henry? Where is he mentally with everything going on around him?
MM: Adam certainly threw him off of his game but what starts to happen is he has this episode coming up with the Nazi Art Heist where [Henry] starts to sort of see Adam in a different light. We're setting these two up for a collision course towards the end of the season. Some big reveals will happen at the end of the season. Henry will learn about Adam and about his own past and a connection that they share. So it's not just flashbacks where Henry's telling us things or we're learning things Henry already knows but Henry will learn new information about his past in real time.
TVF: So it sounds like if we've been assuming that Adam is full on villain and has evil intentions, maybe he doesn't.
MM: Maybe he doesn't.
TVF: So he really could end up being an ally instead of foe, right
MM: He could become an ally instead of a foe. Yes. Those are all possibilities.
TVF: If he is an ally or foe, will we know that by the end of the season?
MM: Yes. We will know by the end of the season and maybe he's a little bit of both. Maybe he's an ally. Maybe he's a foe. Maybe he's the only other person out there, whether ally or foe, that truly can understand what Henry has gone through. So it makes them have sort of an unusual connection, if not friendship, but also, how do you kill an immortal? Even if you really don't like this person, how does one destroy the other? And some pretty interesting twists happen towards the end.
TVF: And how has it been having Ioan as your leading man? I talked to him for the mid-season finale and I could tell  he really loves talking about Henry.
MM: He's a great actor. The problem with the character is that he's in everything because usually you get like a B story and C story. Our B stories are flashbacks that feature him. So until I can figure out a way to do like a 7-year-old Henry flashback or something that wouldn't have to cast him, it's really, really hard for him. He's such a trooper. He works so hard, the whole cast does.
We were talking yesterday and the thing that's so great is that he has such a craft and he's such a dedicated and experienced, talented actor but he really reads every word that you write. So we actually have a problem where it messes him up if we change things on the day. He is so specific to every word that there's, like a policy that we don't change anything on the day.
Forever Season 1 airs Tuesdays at 10/9c on ABC.
Jim Halterman is the West Coast Editor of TV Fanatic and the owner of JimHalterman.com. Follow him on Twitter.