Forever Season 1 Episode 15 Review: The King of Columbus Circle
Paul Dailly at . Updated at .
That was some horrible history, right?
Forever Season 1 Episode 15 found the team investigating when a man from Urkesh died under unexplained circumstances.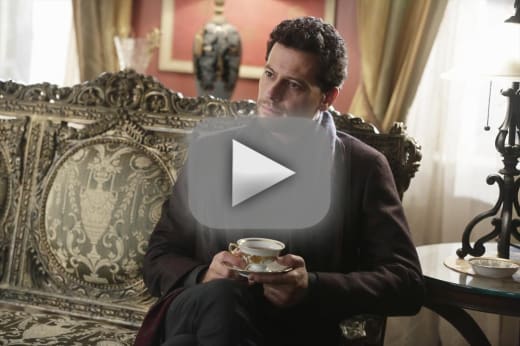 Firstly, I'd like to comment on the strength of the case. It was the most engaging yet and the way it was intertwined with Henry's back story made it even more appealing. More like this please.  
I had no idea Urkesh was even a country. There's a good chance it could be fiction, much like the episode. If it is made up, they sure had me fooled. 
In flashbacks we got some much needed Henry and Abigail time as they went on their honeymoon on the Orient Express. 
Having them save a young boy who just so happened to be the son of the King of Urkesh was a smart move by the writers. The man was eternally grateful that his son was saved. I can only imagine the kid's fate if Henry wasn't on board. The way the king showed up at their door would've had anyone startled. How funny was it when all the waiters just barged in with dinner?
I must comment on the reveal that Lydia was the present day king's daughter. I doubt I was the only one who pegged her as his mistress. It was a shocking reveal and it made for a very emotional scene when she found out the truth, which effectively made her a princess. To be fair, she would have been very gullible to believe it. 
Jo: She gonna be ok?
Henry: God save the queen.
The killer reveal made perfect sense. It wasn't someone we had seen much at all. The guy worked at the embassy and as soon as he noticed this king was present in New York, he made his move. 
I honestly expected Lydia to be killed off, just for the shock value of it. My stomach was in knots when I heard the baby crying. It was obvious at the point he attempted to shoot the baby, his plan would backfire. Come on, a broadcast TV show would never kill off a baby like that. When Jo pulled the trigger and we got to see that Lydia had also been wounded, It kind of gave the impression that Jo had shot her. Thankfully, she didn't.
You were right, doc. This guy does like to get his freak on.

Lukas
Elsewhere, in one of the most WTF moments of Forever to date, we got confirmation that Abe and Henry are actually related. Poor Henry looked a bit upset that Abe would be finding members of his family. I bet he never guessed they were related. This really was a thrilling turn of events. How shocking would it be if Abe somehow became immortal? This development opens a lot of possibilities in what Adam will do next. If this becomes common knowledge, Abe could be in more danger than he could ever imagine. 
"The King of Columbus Circle" was another fantastic episode. It had an excellent mix of fine acting, hilarious one liners and the storyline twists we've come to expect. 
Other bits from the episode:
I don't know how Jo, Hanson or Lukas could even touch that meal after knowing it was the final meal in the victim's body. Yak... more like yuck!
It was really upsetting to find out that Jo and her deceased husband never got to have a real honeymoon because they were both wrapped up in work.
Where was Adam? I thought we'd get a lot more of him given his big entrance last week. We need clues about the dagger. Now.
The episode really was full of emotional scenes. How cute was the king's wife holding the baby while Lydia recovered in hospital?
Remember you can watch Forever online, right here on TV Fanatic. Get caught up with another thrilling episode.
What did you think of the episode? How do you feel about Abe and Henry being related? Did you like the case? Hit the comments with your observations.
Paul Dailly is the Associate Editor for TV Fanatic. Follow him on Twitter.