Girlfriends' Guide to Divorce Season 1 Episode 10 Review: Rule #3

Carissa Pavlica at . Updated at .
Whoever imagined polygamy could turn out to be so damned beneficial?
That's exactly how it turned out for Jo on Girlfriends' Guide to Divorce Season 1 Episode 10, as her jerk of a husband had been carrying on with another woman with whom he proceeded to purchase six thoroughbreds.
If that's not an indication that your marriage was a lot worse than you imagined, than I don't know what is. At least we know she won't be lamenting her decision to leave the guy again any time soon.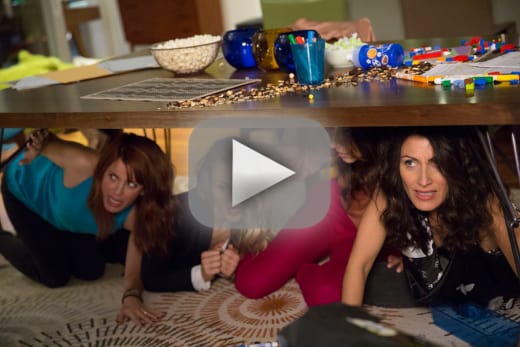 Oh how I wish it had landed on Showtime so we could have seen Jo during the first earthquake running through the backyard, naked, frantically dialing 911. As if anyone in LA gives a damn about a small quake. At least Charlie got to see Aunty Jo's butt!
Altogether, however, this was probably my least favorite installment of the series so far. That's OK, there needs to be a slower hour somewhere, right? It was just missing that special something. 
Jo's addition, however, has remained the bright spot. Her speech to the fundraising committee at school was brilliant, even if it did get Zooey rejected from admission. A quick thoroughbred sale and a sports field dedicated in her name changed that. Thanks Frumpkis, you idiot!
Of course Abby's article went over well. We all knew it would. Have you noticed all mention of her old competition is gone? Jake's accusation that it led to Lilly's slut shaming was a bit over the top.
Abby, and I think in the meantime you need to lay off the fifty shades of Abby shit while we have a daughter in high school.

Jake
Of course he was a bit blindsided when they went to Nate's house and had to talk in screenwriting metaphors to get to the conclusion that Abby and Nate sealed the deal. That whole situation, while verbally cute, made me want to backhand Nate for being such a jackass. Get some stones. 
Then it turned out Lilly put herself on the slut list. Of course she did. Considering the vodka tampon incident, she's not the coolest girl in school and she's socially challenged, at best. For all the things Abby and Jake try to keep from her, they've kept her in the dark too much. She needs to understand a lot more than she does by this age. She should have already known that about boys.
Delia bravely turned away Gordon and bonded a bit in the tent with Charlie and his imaginary friend Chad's farts. At least we're finally seeing some of her humanity.
Through all of her growth, Phoebe still managed to stumble out of the gate and kissed Marco after a successful presentation. Yes, she's beautiful, but that doesn't mean everyone wants her lips upon theirs. Her discussion about the mistake was touching and her apology heartfelt. I hope they keep it friendly. Let one friendship ride. She deserves that.
Ford and Max are exactly where we expected them to be one week into their brilliant open marriage plan. Fairly miserable and already making accusations. That's not going to work. They need to get a grip on it and fast before things get out of hand.
As for the men in Abby's life, did you see how Jake's face fell when she told Charlie daddy wasn't staying the night after the earthquake? He's lost and still considers Abby and the kids his home. 
What's odd is that Abby shares amazing chemistry with both Jake and Will. When she's with both of them, I can get behind a future with either. There is history with Jake and I believe still unexplored territory ahead because they let life get in the way of their progress. 
With Will is a freedom to be someone she has never been. She is confused and doubts the person he sees even exists, but he's not holding it against her, which is a definite plus on his side. A lesser man would be driven away by her insecurities, but he only hopes to help her see herself how he sees her. If I could be so lucky to have either one of the men in my life. Sigh.
Abby is a lucky woman and soon Jo, Phoebe and Delia are going to be learning from her how it's done. Are you willing to give both guys a chance or are you a little picky? Hit the comments and talk about this week's fun and games.
Don't forget, you can watch Girlfriends' Guide to Divorce online any time via TV Fanatic!
Carissa Pavlica is the managing editor and a staff writer and critic for TV Fanatic. She's a member of the Critic's Choice Association, enjoys mentoring writers, cats, and passionately discussing the nuances of television and film. Follow her on Twitter and email her here at TV Fanatic.