Glee Season 6 Episode 7 Review: Transitioning
Miranda Wicker at . Updated at .
Let's forget for a moment that Glee has been all over the place for the past two (three?) years when it comes to storytelling. Glee Season 6 Episode 7 focused on something which has always been at the heart and soul of this show:
Accepting people. No matter what. Glee has been about people finding their tribe.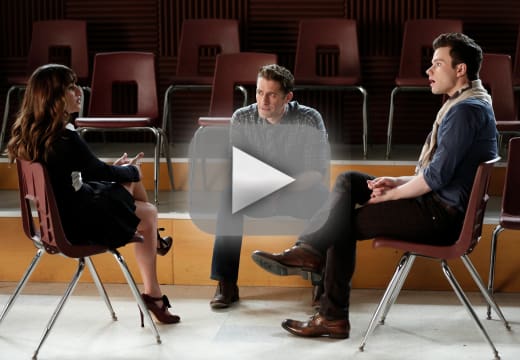 From the moment Shannon Beiste first appeared on Glee, the character has been one of my personal favorites. From her crazy analogies and metaphors to having a heart the size of Texas, Beiste has always been the best. (We'll ignore the mostly terrible way the domestic abuse story was handled.)
It didn't come as any surprise that Sheldon Beiste still has my heart, as did this entire story about McKinley rallying around one of their own and Will helping his friend despite whatever personal sacrifices had to be made. 
While Will returning to McKinley was inevitable, part of me really wanted to see Vocal Adrenaline learn a thing or two about not just tolerance but acceptance. Prior to vandalizing Beiste's car, I would've said no lesson really needed to be taught. They were equal opportunity bullies by their own admission. They'll egg anybody at any time in any place with no respect to race, creed, gender, or sexual orientation.
But then they made it personal with the attack on Beiste and, yeah, I really wanted to see them get a comeuppance. Surely it's coming, if we can make it that far in the five remaining episodes, and if not, if we never see anything from Vocal Adrenaline again and are left knowing they're just a bunch of jerks, that's in keeping with the theme set in motion on Glee Season 6 Episode 6. 
Some people just aren't going to accept that this is the way things are. Vocal Adrenaline is Santana's abuela.
But there I go getting philosophical about a TV show again...
I loved that Unique returned to help Will help Sheldon. Mostly I love that Unique returned in any scenario, and I hope that somehow she'll be sticking around. If I remember correctly, Unique is the same age as Kitty, but I did miss the Glee Season 5 graduation episode, so there's a strong chance this is all just wishful thinking on my part. It would be great to have Unique rejoin the New Directions to help them win at Sectionals.
It would also be great to put this Walter story to bed, and I don't mean to bed with Kurt. Kurt purposefully moved the wheel so that he'd have to sing with Blaine, Blaine kissed him, and then he acted totally disinterested when Blaine showed up at the school, clearly not just there to see Rachel. 
Come on, Kurt! Klaine fans need a resolution before we have to see Sue return to her Hurt Locker!
Dave and Blaine as a couple was never believable in the slightest, so it's fitting that if anyone was going to slap Blaine with the truth (figuratively speaking, of course) it would be him. Dave's known for a while that Blaine just wasn't that into him. He's not Blaine's type. 
If they're not the couple who gets surprise married next week on Glee Season 6 Episode 8 I might have to slushie something.
As for Rachel and Sam's relationship, it's sweet. They're cute together. I like it. It'll do. 
What did you think of "Transitioning"? Did Glee handle Beiste's story well? What was your favorite performance from tonight's episode? Don't forget that you can watch Glee online right here at TV Fanatic!
Miranda Wicker is a Staff Writer for TV Fanatic. Follow her on Twitter.