Gotham Season 1 Episode 15 Review: The Scarecrow

Sean McKenna at . Updated at .
The tale of the Scarecrow's origins and his father's obsession with fear continued in Gotham Season 1 Episode 15. Now we have some idea why Jonathan Crane dons the Scarecrow mask.
I actually enjoyed getting to find some motive for Dr. Gerald Crane's antics in Gotham Season 1 Episode 14. There was a personal purpose to his methods to eliminate his own fear, after being hounded by it for years.
Gerald's wife died in a fire and he didn't save her, so he was haunted by visions of her and the home engulfed in fire.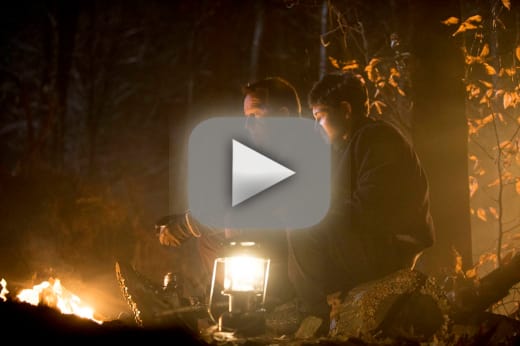 Plus, the concept of mixing together a connection that could possibly eliminate fear seemed like the perfect precursor to Jonathan eventually creating a toxin that causes people to be consumed by their own fears.
Clearly, Jonathan's life already wasn't quite normal with his father convincing him to take part in his experimental procedure. And then when he was pretty much given a super dose of the mix, his mind was forever altered by his fear of the scarecrow.
I can only imagine having to forever see the one thing you fear most.
Though, the actual reasoning for it being a scarecrow seemed really convenient just because he happened to look up after getting the shot of the mix.
I'd be really intrigued to see how Jonathan manages to cope many years later or what really pushes him towards becoming villainous, but I doubt we'll ever get to that point.
At least it seems we have the potential to see Edward Nygma go dark and, as goofy as the "chase" between him and Oswald was, I actually enjoyed getting to see those two interact. Might they team up in the future? Well, if Ed can refrain from making emperor penguin comments, maybe.
It still seems like Oswald has a way to go before finding himself in a top position. He may have Fish's club, but there's still that threat of Sal Maroni, and Jim seems to be distancing himself from his "friend."
Jim also seems to be trying a little distance with Dr. Leslie Thompkins, the new medical examiner, but I still like those two together when compared to Jim and Barbara. I'm sure we'll get some drama fights soon when Barbara returns. Ugh.
I can do without Fish's return at this point, as scenes in the hour (in addition to her campy delivery of lines) just seem so distanced from everything going on in Gotham. She kills one guy in the "prison" and everyone follows her? So ridiculous. I just hope whoever has her proves to be an interesting reveal, but Fish just doesn't keep me entertained.
I would certainly have said the same for Bruce's trek through the woods, but I enjoyed that Alfred was waiting for him and said he knew Bruce was hurt. There was that chance for Bruce to figure something out on his own, while also having Alfred there to help guide him. Plus, it was a pretty great sunset.
The hour was a mixed bag, but the focus of the main villain of the episode kept me interested. But with every name drop or introduction of a future Batman villain, it makes me wonder how much of Batman's world will be introduced before Batman. Do we really want to see the Joker without Batman?
What did you think of the Scarecrow's origins? Do you want to see Oswald and Ed team up? Sound off below, and catch all the origin stories when you watch Gotham online now.
Sean McKenna was a TV Fanatic Staff Writer. He retired in May of 2017. Follow him on Twitter.