Welcome back to the Grey's Anatomy Round Table!
We found out that Meredith didn't make it to D.C. on Grey's Anatomy Season 11 Episode 12, as the installment gave Stacy Glanzman, Krystal Sondel and Christina Tran plenty to discuss regarding Dr. Herman's funny moments, Owen and Amelia (What should we call them? Tell us in the comments!)... and much more.
Ready to gather around and join in? Leave your takes in the comments!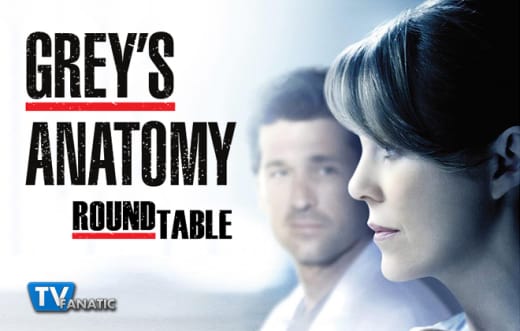 What was your favorite quote or scene from Grey's Anatomy Season 11 Episode 12?
Stacy: I think my favorite scene was Meredith confessing to Alex that she's not ready to be with Derek right now.
Krystal: Amelia showing up to Owen's trailer with a wine bottle full of water. Her awkwardness was all sorts of adorable, and I'm glad it ended in a kiss! A close second is Alex telling Mer that he is going to marry Jo.
Christina: Hands down, my favorite moment was when Alex said he's going to marry Jo. Team Jolex forever!
When do you expect we'll see MerDer back together again?
Stacy: That's a good question. We're currently half way through the season and I don't think they'll wait as long as May sweeps to bring him back. I would guess maybe 3-5 more episodes.
Krystal: Hopefully by mid-April. I don't want this storyline to be another cliffhanger for this season's finale so I want a resolution soon.  
Christina: I'm with my co-roundtablers. I'm not expecting Derek's return anytime soon.
When did Dr. Herman make you laugh the most?
Stacy: I liked seeing her rag on Arizona for living with Alex and Jo and telling her to get her own place after the shower incident.
Krystal: When she told Arizona she was not going to have sex with her. It made Arizona laugh almost as much as I was!
Christina: Dr. Herman really shined throughout the entire episode. I laughed the hardest when she said, "Residents gone wild!" She was hilarious!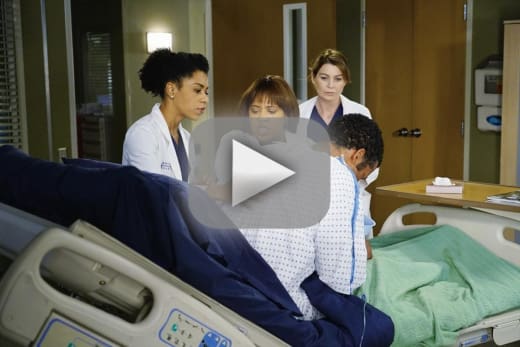 What did you think of Ben's storyline with his brother?
Stacy: I mostly liked Bailey in that storyline. She rocked it as always. I liked that she told Ben it's not about him.
Krystal: I was disappointed, and honestly somewhat annoyed with Ben. If they are as close as Ben says they are, I don't know how he can just be done with his brother. I get that he would be shocked and upset but felt it was a little over the top. I hope we see more with this storyline in the coming weeks.
Christina: Ben's initial reaction was understandable. I, too, wanted Ben to come around by the episode's end, but that didn't happen. We all react and deal in different ways, and I'm hoping this story isn't finished yet.
Did you see the Amelia and Owen pairing coming? What should we call them: Amen?! Omelia?!
Stacy: Yeah, I wasn't too surprised by that. They've been getting closer and I feel like they've been laying the groundwork for them to get together all season. Out of those choices, I'd have to go with Omelia.
Krystal: When they kissed, I said "it's about time!" They could seem like an odd pair to many, but honestly they are perfect for each other. They have both had a hell of a few years so to see that moment play out on the screen - AMEN!
Christina: I wasn't like jaw-dropping surprised, but I didn't see it coming and wasn't expecting it. And I think I prefer Omelia better. Readers, help us decide in the comments!
Here is your first, extended look at Grey's Anatomy Season 11 Episode 13: