Grey's Anatomy Round Table: Will the McDream Team Make It?

Christina Tran at .
Welcome back to the Grey's Anatomy Round Table!
Grey's Anatomy Season 11 Episode 9 was all about shock and life's challenges. It gave Christina Tran, Krystal Sondel and Stacy Glanzman plenty to discuss regarding Derek leaving, Jackson and April's unfortunate news, and much more.
Ready to gather around and join in? Leave your takes in the comments!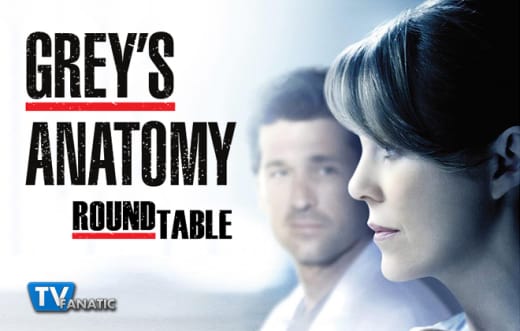 What was your favorite quote or scene from Grey's Anatomy Season 11 Episode 9?
Christina: I loved when Meredith said, "I'm going to miss you." Then, Derek responded, "This can work. We can make this work. We will."
Krystal: I really appreciated Owen and Meredith's chat. When he told her that he needed to let Cristina go, it felt good to hear him say that. Sometimes letting go is the best thing, and in the end I think Meredith needed to hear that.
Stacy: That's tough. There was a lot I liked about the episode. I think I might have to go with Bailey convincing the little boy to tell her who his parents were. He was really cute, and it was funny when he said he didn't have a phone because he was seven, but turned out to be lying.
Grade the midseason premiere.
Christina: A! As I mentioned in my review, I thought the midseason premiere was simply awesome. I absolutely loved how well the storylines have been written and how completely amazing the actors have been. This season has felt so different but also the same in so many ways.
Krystal: B. It set the stage for a lot of things to come, but it didn't blow me away like others this season have. I am thrilled to have Grey's back on a regular basis and am really interested in the storylines. Season after season, Shonda and her team keep inventing storylines that are heart-wrenching and powerful, and I'm enjoying the ride.
Stacy: B+. I liked the episode as a whole, but there wasn't anything that stood out as being jaw-droppingly awesome. It was a really good episode, though.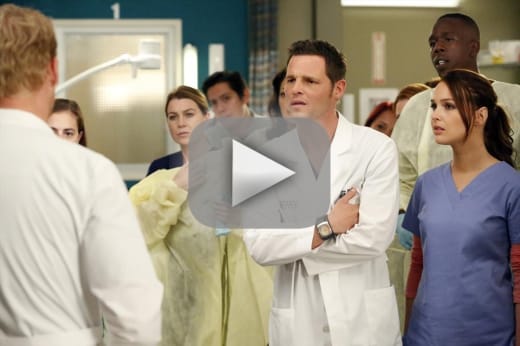 Derek's still leaving. The McDream Team believe they can make it work. What do you think?
Christina: No relationship is perfect. I like the route the writers are taking to illustrate how complicated marriage can be at times. So as long as they're back together and better than ever, I'm fine with the McDream Team's story.
Krystal: I said this early on in the season, but the only way these two can truly make it work is for this physical separation to happen. Strong relationships can't involve regrets, so this time apart will give them the opportunity to pursue their dreams separately, but still support each other. I think in the end they will make it work. I hope, though, it doesn't mean too much less screen time for McDreamy.
Stacy: I'm happy to have a break from Derek and I love Meredith and Alex's friendship, so I'm looking forward to more scenes between them. I am glad that MerDer talked at the end of the episode and even though he's leaving, they're not fighting anymore.
Without a doubt, April and Jackson's storyline with their baby is heartbreaking. What do you appreciate most about how the writers are telling their story?
Christina: I appreciate how raw and real April and Jackson's storyline is being portrayed. What they are going through is unimaginable. Once again, Grey's is tackling the tough stories in life and the actors are giving it their all. We couldn't ask for more.
Krystal: I was really interested to see how April's faith would play a role. The scene outside the hospital where she kept asking Jackson why would God do this was very powerful. Faith is needed most in times like this, and I am interested to see if April can hold onto her faith - and how much it is tested in the coming months.
Stacy: I read that Sarah Drew came up with the idea which is interesting since she was actually pregnant. I appreciate the writers aren't sugar coating it and they're letting the characters deal with it head on. At first it seemed like April was in denial, but really she just felt the need to be useful and keep busy, which I could understand.
What are you looking forward to most in the remainder of Grey's Anatomy Season 11?
Christina: Jolex! Seriously, when are we getting more of these two?!
Krystal: Amelia's storyline with Dr. Herman. It sounds like an impossible task, but I think it's something Amelia needs right now, and I hope she pulls it off.
Stacy: I want to see more of Owen/Callie/Jackson's Vet program. I hope they aren't dropping that storyline. I miss seeing Jackson in the OR. He's way underused and needs something to do that doesn't revolve around April.  
NOTE: Grey's Anatomy Season 11 Episode 10 will be titled "The Bed's Too Big Without You" and air on Thursday, February 5.