Hart of Dixie Season 4 Episode 5 Review: Bar-Be-Q Burritos

Amanda Steinmetz at .
Perhaps Lemon should take a few tips from Patti Stanger when it comes to matchmaking. 
On Hart of Dixie Season 4 Episode 5, Lemon tried to play matchmaker for Annabeth and George.
Unfortunately, the results blew back in her face.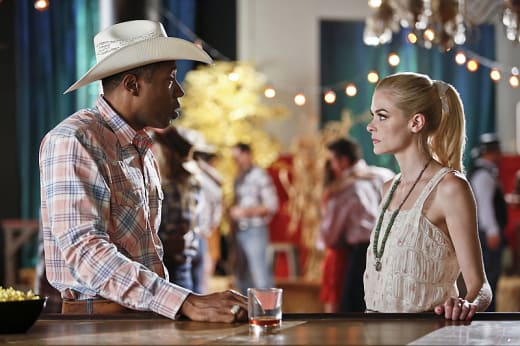 At this point, Lavon and Lemon are clearly meant to be. Neither of them are going to meet the love of their lives at a hoedown. There will always be tension between the two of them as long as they keep fighting their feelings.
I was disappointed early on in the series when the writers dropped the Lemon-Lavon love story. It has always felt like there was story left to tell between the two of them. While I really enjoyed Lavon's relationship with Annabeth, that ship has sailed and is long gone.
Lemon: You certainly don't have to worry about running into the love of your life at a hoedown two towns over.
Lavon: Lemon Breeland, are you saying I'm the love of your life?
Lemon: Who says I was talking about you? Maybe I was talking about the soup guy.
As much as Lemon liked to think she was doing a good deed, Annabeth was right. Lemon was clearly acting from a selfish place in trying to hook up Annabeth with George. 
There was definitely a spark that started brewing with Annabeth and George, but it's too soon to say whether it will stay strictly in the friend zone or not. It would be awfully convenient for them to get together just in time for Lemon to be with Lavon.
I wouldn't mind seeing Annabeth with George if the writers need everyone to be paired off. They've had very few scenes together without Lemon, so I'd like to see how their chemistry is going forward. 
Annabeth and George: She's [Lemon] trying to set us up!
Annabeth: It is a scheme within a scheme within a scheme.
George: That's a triple scheme!
Like I've said before, the only way Lemon will pursue a relationship with Lavon is by getting Annabeth's blessing. Hopefully Annabeth will come around and let them be happy together.
The other main storyline revolved around Wade and Zoe's increasing worry about the financial burden of having a baby, especially with the Rammer Jammer losing business.
I was mostly bored by this storyline to be honest. Zoe's emotional outbursts started off funny, but quickly grew tiresome. However, I do enjoy seeing the more responsible side of Wade. 
Zoe was important tonight for one very important reason. She finally brought up how Lavon's kitchen always has food on the table! I've been waiting for someone to say something about this for four seasons.
You walk in [Lavon's kitchen], and there are just pastries everywhere. Where do they come from? We're never going to find a new place that comes with its own pastry elves.

Zoe
Even though Crickett only had a couple of scenes, I was annoyed with the lesbian stereotypes she thought she needed to adopt for her date. 
I understand the show is making fun of these stereotypes and how backward some of the south is when it comes to those stereotypes. Still, it was a little grating at best. 
So over to you guys! What did you think of the episode? Do you like the idea of Annabeth and George being more than friends? Should Lemon act selfishly with Lavon? Will Zoe and Wade ever find another home with magical pastry elves? Sound off below, and don't forget you can always catch up with all the small town gossip when you watch Hart of Dixie online via TVFanatic! 
Amanda Steinmetz was a staff writer for TV Fanatic. She went into retirement in June of 2027. Follow her on Twitter.