Hawaii Five-0 Season 5 Episode 15 Review: Searching for the Truth

Amanda Wolf at . Updated at .
Another international criminal came into town and caused problems for the team on Hawaii Five-0 Season 5 Episode 15.
How is it that so many international criminals make an appearance every week? I guess we can assume Hawaii is a hotspot due to its small size and the large amount of travel to and from the island.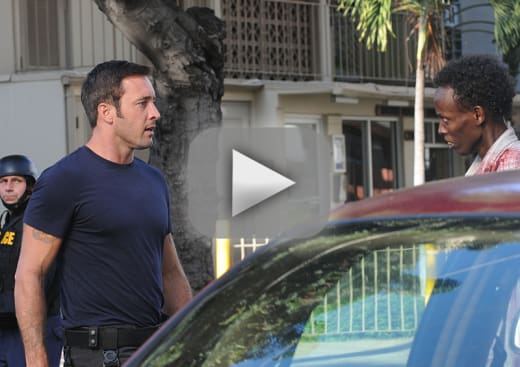 The team turned into code breakers in order to figure out what the mystery was behind Julius Brennan's strange writing habit known as hypergraphia. 
I wasn't on board with the code story line as it has been really overdone by a lot of cop shows. I am also not a huge fan of mysterious and over the top story lines for how to solve a crime. Hawaii Five-0 teeters on the edge of doing this a lot, so it was good that the team got on the trail of Makoni relatively quickly. 
While it was awesome seeing Kono with her sniper rifle, it seemed a little dangerous to go for a shoulder shot instead of just taking him out then and there. Her reasoning was that he didn't deserve to go that easy, but I think the worst thing in Makoni's mind was the fact that he could die. He himself said that his life was about survival or death. I think he would have chosen survival over death every time.
Steve's experience with the military was a huge help in figuring out that Makoni would go for his leverage. Steve thinks like he is still in the military and it has proven invaluable to the team when trying to catch the monsters that frequently come to Hawaii. 
Has anyone else noticed that in addition to a lot of international criminals, there are also a lot of bad government employees? This time it was a State Department cultural attaché, who for some reason saved Makoni's life and was helping him hide. It was unclear why that was. In other cases it has been because the criminal is holding the family hostage or has some leverage on him. I think we all saw that one coming from a mile away.
The heartbreaking scene of this episode was the brothers talking about the deaths of their parents. It was a potent reminder that we are living in a bubble of safety where it is not survival or death. 
While it was a decent installment of Hawaii Five-0, the case-of-the week left me wondering what the big arc will be this season. Should we be expecting another appearance by Doris? When is Mr. White going to come back so Steve can figure out what he is up too? Kono getting engaged made me forget that Mr. White's story still hasn't been resolved or addressed again. But, there are still quite a few episodes left. 
My Favorite bits: 
Jerry having some game 
Danno was back!!!!
Danno had scenes with Grace, and she is talking to boys!!!
Grover's heart-shaped cheese slices
What did you think of this episode? Did you like the case of the week? Do you have any predictions for the end of the season?
If you haven't seen it yet, remember you can watch Hawaii Five-0 online via TV Fanatic!