I don't know about anyone else, but I couldn't help but feel sort of like Grover at the end of this episode.
Suspension of disbelief is one thing, but Hawaii Five-0 Season 5 Episode 16 would probably have been better off if it had gone through a few more drafts in the writer's room. Maybe more than a few.
Is there a word that means "frustrated disbelief?"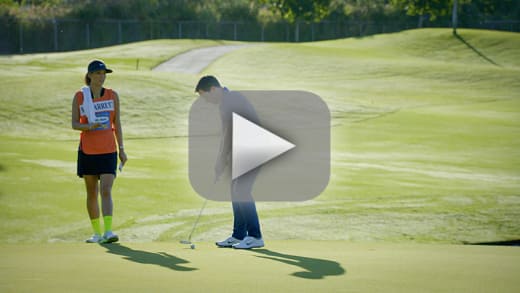 I'm standing in this week for regular TV Fanatic reviewer Amanda Wolf, and I freely confess that I haven't kept up with the Hawaii Five-0 episodes quite as much as I probably should have. So the relationship between Danny and Amber really didn't connect with me as strongly as it might have.
Nevertheless, I found myself rolling my eyes when it turned out that the suspicious guy with the foreign accent turned out to be Amber's secret husband!
Wait, what?!
Is it at all possible for character on this show to have normal relationships? Let's take a brief look at some of the romances the Five-0 team has had over the past five seasons:
McGarrett's longtime girlfriend dumped him to hang out with a kid in Afghanistan.
Chin Ho married his ex-fiancee, only for her to be brutally murdered shortly thereafter.
Jenna Kaye (remember her?) betrayed everyone to Wo Fat in a futile bid to save her already-dead CIA agent fiance.
And let's not forget there's Kono and Adam, too, and their Yakuza problems.
Now we have Danny's girlfriend and her secret husband.
I think that between the two of us, we may be able to open a luggage joint one day, you know?

Danny
Said crazy-obsessive-possessive husband cracked Danny over the head and ends up stabbing him, before Amber smacked hubby with the car and then ran him over. What I find odd is that there was no mention of her mushed husband afterwards (in terms of the present rather than the past). Did Amber just commit vehicular manslaughter with Danny's car?!
Questions like this are worth answering!
There were many other things that really rankled me about this episode, too, like lazy writing. This episode featured an agent who pretended to be on official business investigating a case when she was actually on leave from her agency. Sound familiar? It should: that was the backstory for the introduction of the aforementioned Jenna Kaye, recycled for Melina Kanakarades's ATF Agent Kathy Millford.
It didn't get much better for Millford's character. I have a feeling that the writers had watched episodes of fellow CBS series The Mentalist before sitting down at their computer to type the script: Millford publically taunted the perpetrator with his supposed inadequacies, the perpetrator latched onto her as a focus for his obsession, and killed Millwood's husband.
That sure sounds a lot like what happened with Patrick Jane when he did something similar with serial killer Red John, doesn't it?
Of course, it didn't take much for Millford to stay on the case despite lying to Steve McGarrett's face about her reasons for being in Hawaii. All she had to do was turn on the waterworks:
Yes, I blame myself for what happened to my husband! But, damn it! Tracking this guy down is the only thing that gives me purpose. Please, please, don't take that away from me.

ATF Agent Kathy Millford
Ladies and gentlemen, that is almost literally her entire argument to Steve to keep her on the case. And he lets her. What happened to your backbone, oh mighty SEAL? Even worse, it turned out that the firebug was targeting Millford! What in the world would have happened if Steve had stuffed Millford on the next flight back to John Wayne Airport (as he really should have done)?
And that's not even considering the potential legal complications of allowing an agent not on active duty to continue to work a case, especially when clearly emotionally compromised.
I like Melina Kanakarades as an actress, to be honest; I still have fond memories of her time on CSI: New York, where she played Stella Bonasera. But she could have been dealt a much better script than this.
So, what did you think? Did you enjoy this episode more than I did? Did you like the cameo by LPGA golfing star Michelle Wie? Will Amber/Michelle ever face consequences for squishing her husband with a car?
Let us know your thoughts on this episode in the comments section below! Remember, you can catch up on previous episodes right here at TV Fanatic when you watch Hawaii Five-0 online!