Helix Season 2 Episode 6 Review: M. Domestica

Henry A. Otero at . Updated at .
There's no doubt Helix is known for its WTF moments, but that intro totally messed with my head; Jules and Alan? Helix Season 2 Episode 6 had a ton of bizarre moments, including our first look inside an Ilaria board meeting.
It was great to not only meet some new immortals, but to learn a few of them are against the destruction of mankind.
Sister Amy came to the forefront this week and it appears Brother Michael's got some serious competition on his hands.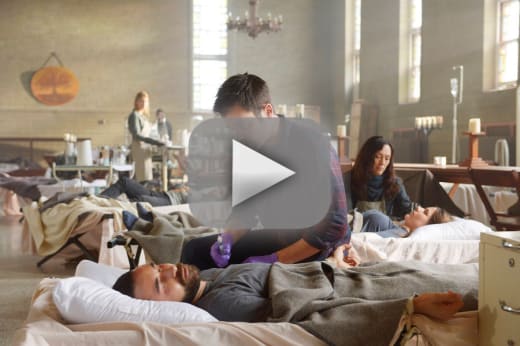 I think we finally got a better idea of what Ilaria is up to. "A cleansing moment of clarity" as one member put it. Julia entered that board room so confidently in the Helix Season 1 finale. However, this week she was the outsider and the only immortal on humanity's side. I'm still confused regarding her allegiances, but her role is becoming more clear. Loved finally seeing her in both timelines by the way.
Brother Michael is such a snake. I mean, we knew the ladies on the wall were his "daughters," and he had probably killed them all off. Still, seeing Agnes' portrait and watching his performance after her death was unsettling. Poor Anne, she is so brainwashed. The guy tells all his daughters they're his favorite ugh.
It was just a matter of time before Sarah found Alan handcuffed in the lab. How long did Kyle plan to keep him chained up?
Alan: You haven't figured it out, he's a mole.
Kyle: Watch it friend.
Alan: He's undercover, apparently I'm the CDC's most wanted. And I am not your friend.
Sarah: You've been investigating us this entire time?
Kyle: Not you, him. This man's a wanted terrorist. Multiple counts of murder and the bombing of the Ilaria Corporate building in Paris.
Sarah: I trust him, which is more than I can say for you right now.

I liked the way Kyle stood his ground. Yes, Alan's got his own mission and it's justified, but he's gone about it all wrong. Kyle's been trying to do the right thing and was actually making progress with the source of the virus (the common apple). He had a good point too, those Farragut's are not to be trusted.
Amy had a much more realistic reaction to her grandma's death. She put two and two together; Sarah's silver eyes and Michael's lies. Alison Louder (Amy) was particularly fantastic this week. The thought she has to bed Michael is just icky, isn't it? The "planting ritual" is a hilarious thing to call it. Helix writers you slay me!
Interesting that Brother Michael thought Peter was immortal. I never even considered that, did you? Part of me was glad Peter was being tortured, it's not like he doesn't deserve it. I would have gone with snakes over rats though.
When Landry spiked the berries, it was great to see Kyle spring into action. The guy is our first Boy Scout hero, he's the one character I'm hoping makes it out of Helix Season 2 alive. Of course, this is Helix so that's not going to happen sadly.
Kyle: We need to get these people into quarantine.
Anne: What if there's not enough room in the infirmary.
Kyle: Just find the biggest room you can and round up the sick in there.
Anne: They won't come willingly.
Kyle: Then use physical force. Look these people are having a psychotic break. They won't listen to reason. They're not your friends and family anymore.
Back at Ilaria, Jules and Sergio plotted against Ilaria. It was nice to see they're not the villains of the story. Still, I'm not sure handing over the only cure to Balleseros was the smartest thing to do. Glad to see Julia has other immortal allies. Young Ms. Durant was a fun twist. I hope she works better than "the Sythe" last season. It's just tough to know who you can trust.
Kyle finally agreed to set Alan free and they worked together to control the new outbreak. The quick confrontation between Alan and Brother Michael was tense. I'm not sure I would have been that calm in the same situation. Hatake was our wild card last year, but I don't remember disliking him as much as I do Brother Michael. I wonder who will take him out, Sister Anne?
Sister Amy is quite the little manipulator isn't she? She's giving Brother Michael a run for his money. This was a big episode for Amy and she's quickly becoming one of this season's most interesting characters.
Olivia: No one was sick until they got here. And now Soren's gone, they killed my son. Who's going to be punished for that?
Sister Amy: I don't know. I just wish someone would make them go away.

I liked Alan and Kyle working together this week. They figured the berry thing out fairly quickly and that it was intentional. I'm hoping Kyle comes around and learns the truth about Ilaria. I think he'll make an excellent ally. Our heroes need all the help they can get right?
Peter spilled the beans about Sarah's immortal baby. Didn't you just want to kill him? What the hell's wrong with the guy? More rats please, finish him off.
Very cool to learn that Brother Michael's goal is to produce an immortal child. He mates with his daughters to keep the blood line pure and make his immortal side stronger. I wasn't sure what his deal was, but things are beginning to make more sense. Is it me, or is this season much more focused than last year?
I was surprised Brother Michael would believe Sister Anne was behind the spiking of the berries. Man, is Amy good or what? She sacrificed her own mother to bring that bastard down. Meanwhile, Olivia's little rebellion disrupted the progress Alan and Kyle were making with the sick. Landry drugged Alan and he went after Sarah, not Kyle. Still, I have a bad feeling Texas isn't going to be around much longer.
What did you think of "M. Domestica"? So Brother Michael is the "renegade immortal," and he's something else isn't he? Did you enjoy Amy's scheming as much as I did? You're up guys, please share your thoughts with me in the comments below.
As always, you can watch Helix online via TV Fanatic if you need to re-visit the madness. I honestly think this week's installment requires another viewing. We were given a ton of new information.

NOTE: Helix Season 2 Episode 7 is titled "Cross Pollination" and airs on Friday, February 27.