Not knowing about the parallels between the premise of "December Solstice" and the context surrounding the Casey Kasem headlines definitely lead for a much more intriguing viewing experience tonight. I was truly in for a ride as the blame shifted from wife, to husband, to daughter.
It's rare that SVU get's one over on me, and even less likely if it's a "straight from the headlines" type episode, but Law & Order: SVU Season 16 Episode 16 managed to keep the suspension building throughout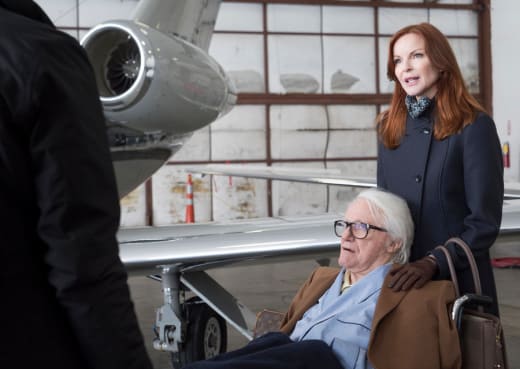 Even when the case seemed to be at its most predictable, and straightforward, with Charmaine painted as the "obviously" guilty gold digging wife, we were still watching to see if she would get away with it all somehow. After the postmortem video message Briggs crippled Barba's case, and exposed Delilah's selfish secret, the hour just got better. 
Not only was Charmaine actually complying with Brigg's (sometimes irrational) wishes, guest star Marcia Cross makes her return to TV with ease -- playing the perfect fantasized version of a young wife out to rob a "poor old man." However, the truth is that these old men are never that innocent to begin with, and, as Amaro put it, the novelist wasn't actually a role model:
Amaro: He wasn't exactly a great person.
Carisi: He was a great writer Nick -- the work deserves respect.
But, even though I, just like Barba, hate to admit it, Carisi also has a point: the work needs to be respected. And despite his (many) flaws, Briggs had contributed something of value to the world. That's what fans like Carisi will remember him for. 
Cross pulled the wool over my eyes by not being a sneaky, and conniving, model wife. She truly loved the man, and wanted to have his child.
Counselor: Charmaine: I wanted to have his child.
Charmaine: No. Because I loved my husband! I never met another man like Walter Briggs!
Barba's side story didn't seem to be picking up any steam -- right until the closing scene. Despite his best attempts to overcompensate and be a worthwhile grandson, Barba's good intentions fell on deaf ears. And now he's left comforting his own mother. However, Barba and Lucia are strong individuals and I know this won't derail either of them like it would anyone else. 
Regardless, it was still an emotional conclusion to an otherwise seemingly inconsequential episode. 

It was entertaining, for sure, but there wasn't any gravity to the situation. Instead, it was a game of deception -- and that's just as engaging.
Also, the amount of completely weird sentences to come out of tonight's hour is beyond ridiculous.
What the hell is an "electro-rectal probe," or whatever it's called!?
Rectal-probe electro-ejaculation. That sounds like a sex crime in and of itself.

Barba
The misogyny, more than anything, turned me off of the man -- but I can see why someone like Carisi would respect him. Talent is talent, regardless of the person welding it (I mean, just look at Kanye West).
Although we weren't really privy to any of Briggs's actual writing, we do have the writers of SVU to thank for this gem:
79 and stiff as a varnished eel.

Briggs
Watch Law & Order: SVU online in order to revist this case, now with all the twists & turns laid out (that is, if you were like me and knew nothing about the premise before going into the hour). Make sure to head over to Law & Order: SVU quotes as well for some more poignant one-liners like the one above. Law & Order: SVU Season 16 Episode 17 doesn't seem to be on air for at least a few weeks though, so leave your thoughts down below and speculate on where this season could possibly go! What about baby Noah!?