Marvel's Agent Carter Season 1 Episode 7 Review: Snafu

Stacy Glanzman at . Updated at .
Holy crap, what a crazy and intense episode! 
I have to admit I thought it started off a little slow, but those feelings were blown out the window by the end of Marvel's Agent Carter Season 1 Episode 7. 
The penultimate episode has set us up for what I expect to be a super-charged, exciting conclusion.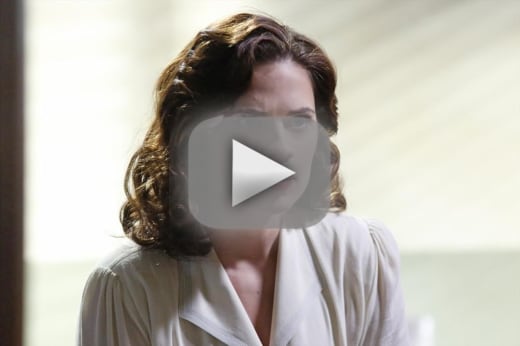 This series has gotten better with every episode and though I can't wait to see how it ends, I'll be sad to see it go. Seven episodes isn't a lot, but it was more than enough to get me invested and make me really care about these characters. The focus last week and this week on Dooley's home life had me worried about him, but I was still holding out hope that he'd make up with his family.
Everything about Dooley's final moments were heartbreaking. His hallucinations of making up with his wife and asking to come home, to his realization that he would never make it to dinner, and to his final words to Peggy: 
Dooley: Promise me you'll get the son of a bitch who did this. Say it!
Peggy: We'll catch him.
Dooley: That a girl.
The writers have really done a fantastic job developing the characters in such a short amount of time. 
Let's talk about that ending. What was that all about? That was an interesting device, but why make a room full of movie-goers fight to the death? I'm guessing they were either testing the device before using it on a wider scale, or it was a message of some sort. If it's the first one though, I'm not sure how Dottie would manage to go back in and get it back. 
The vial of blood has to be used for something in the finale right? They keep coming back to it, so it's got to have some significance. Does anyone want to venture any guesses? 
How great was the scene of Peggy and Jarvis breaking out of the interrogation room? That was easily the funniest scene of the series for me so far. It probably would have made more sense to break the table against the wall, rather than using it to break the glass, but luckily Thompson was there to free them anyway. 
I like that Thompson and Sousa have bonded. Thompson's line to Sousa that he should shoot to kill if he encountered Dottie wasn't a knock on his disability or a suggestion that he couldn't take care of himself; it came from his own experience against the child trainee in Russia. 
Sousa, I don't doubt that, but after seeing that kid tear through us in Russia, I'd hate to tangle with one that's all grown up.

Thompson
Thompson knows a fully trained, adult assassin is going to be much scarier than the child, who was plenty scary in her own right. Sousa really should have taken his advice and just shot her.
It was interesting that Peggy spent the entire episode inside the SSR, granted, that's where most of the action happened. 
Now that Dooley is dead, I wonder who will be acting chief in the finale? Thompson was put in charge last time, but Peggy would make the most sense since she's got the most knowledge of the enemy. Plus, it would kind of bring the show full circle if she gives the orders after starting off getting their coffee. 
What are your predictions for the finale? I can't wait to see a bad-ass fight scene between Peggy and Dottie. Do you think Dooley was the only major death, or will there be another one? 
If you've missed any of the action, you can watch Marvel's Agent Carter online. 
Stacy Glanzman was a staff writer for TV Fanatic. She retired in March, 2019.