Modern Family Season 6 Episode 14 Review: Twisted Sister
Leigh Raines at . Updated at .
A Valentine's Day without Clive Bixby is like a Valentine's Day without chocolate hearts and flowers.
Well despite no appearance from my favorite one of Phil's alter-egos, Modern Family Season 6 Episode 14 was still pretty good!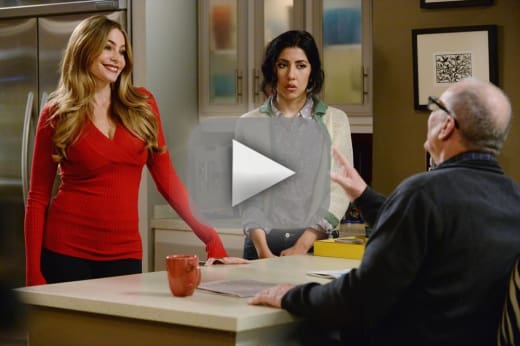 I truly loved the beginning of the episode when Phil was unzipping his Clive costume while Claire was flipping back and forth on what she wanted to do. Then the red satin pajamas! Poor guy. Hey, at least he got to wear them the next day while he was flipping pancakes.
Claire looked fantastic in this episode. I was really digging Juliana's outfit! She was a lot of spunk and a lot of fun. Look I don't really blame Phil for getting more turned on from the role-play. After all, that was the whole point! But Claire's rebuttal of tearing apart Johnny and Baby from Dirty Dancing was pretty classic.
No matter how much I may disagree. Nobody puts Baby in the corner! Sorry Claire.
The ending to their night was sweet, but still funny. First they had a sensitive moment and then Phil locked Claire out of the house, which cracked me up.
Point is- a guy like me gets that lucky, he quits while he's ahead.

Phil
Manny was the only kid we got to see on this week's episode. Jay comparing him to a Cathy comic was probably a bigger insult than Manny even realized, but he'll get his swagger back.
Lot of attitude from a guy whose date is a tub of ice cream and a fuzzy robe. You're spending Valentine's Day in a Cathy comic.

Jay [to Manny]
Why was Gloria's sister so monotone? Was she supposed to be because she was miserable? Either way, hands down the best part of the episode was when the sister realized that she was sitting on the baby monitor when she was hitting on Jay. She knew that Gloria was going to eff her up! Damn straight, Gloria, stand up for your man!
Lastly, we had Mitchell and Cam who had to spend it with their miserable, divorced friend. The back and forth gag with the gift was funny. Those two always pull off good dialog. 
Definitely not the best Valentine's Day episode of Modern Family, but definitely not the worst either. Overall, a good laugh and put a smile on my face.
Don't forget you can watch Modern Family online at anytime here at TVFanatic.
Note: Modern Family Season 6 Episode 15 is entitled: "Fight or Flight."