Hell hath no fury like a Luke Wheeler scorned!
Nashville Season 3 Episode 11 picked up right after Rayna called off her wedding to Luke. Needless to say, he did not handle the situation gracefully or quietly.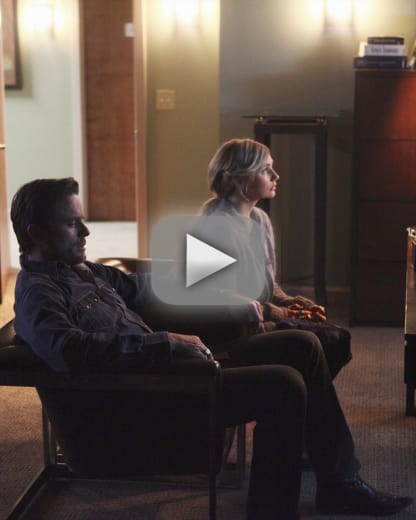 I've never been a fan of Luke. There's always been something about him that made me think he had the potential to be petty. Although, I would be extremely pissed off too if I were to be dumped on the day of my wedding. 
Still, his comments to Rayna about their relationship saving her career was a low blow.
Luke: I mean, hell, before me you were mortgaged to the hilt, saddled with an album that wasn't commercial, I mean persona non grata on country radio... But now look at you. You got a platinum album, a sold out tour, and all those CMA awards. I mean now that you got your six statues, I guess you don't needs my seven carats. You can keep the damn ring by the way.
Rayna: Well if that's how you feel about it, guess I dodged a bullet, didn't I?
Not that I though he would shoot Rayna, but I got a little uneasy with him shooting that gun during their conversation.
Even though their relationship is over, I doubt this is the last we've heard from Luke. It won't be a surprise if he goes to the press and denies the statement Rayna made about their break up being a mutual decision. 
His kids were also disappointed in his actions when he decided to throw a party for fans that night. It will be very awkward if Maddie and Colt decide to pursue each other now that they won't be related.
I am happy Rayna acknowledged her feelings for Deacon. She knows he'll always be the one, but she can't jump into anything yet.
Since this is a drama series, of course this is all happening as Deacon is handed the news he needs a new liver. It's understandable that Deacon is scared to tell Rayna. He could very well die, and he doesn't want to put her through anymore pain.
I just hope he tells her soon. He may not want to be taken care of, hut it's a job I'm sure Rayna would gladly take on.
It was an emotionally heavy episode all around.
Gunnar went to court to get custody of Micah. I felt bad for him, but he had no parental claim over Micah. He may love him, but Gunnar is not prepared to raise Micah as much as he would like to think so. I'm glad he made up with the grandmother though.
Sadie was taking matters into her own hands to protect herself against her ex by buying a gun and getting the paperwork in order to get a restraining order. 
It did disturb me how easily it was for her to buy a gun. I'm not going to get into that though because then we will all get into a gun control argument in the comments section, and no one wants that.
Layla made it through her overdose, and I'm actually relieved. I disliked her when she was first introduced, but she's grown on me a lot.
Will: Hey, how you feeling?
Layla: I tried to kill myself and couldn't even get that right. How do you think I'm doing?
Will, FINALLY, started taking some responsibility for his destruction of Layla's happiness. I want him to continue to take these steps in the right direction and come out to the country music community.
I can't figure Jeff out. He was such a slime the entire episode trying to cover himself in regards to Layla and the drugs. Yet at the end, he crept into Layla's hospital room to watch her sleep... What is his angle here?
On a lighter note: Avery and Juliette had their first argument as a married couple. The chair clearly symbolized Juliette's struggle to open up her home and life to another person. They have to be a "we" now. 
They're just so darn cute. Let's keep it that for way.
Favorite performance of the week: My favorite performance is going to Sadie. Her new song she wrote about her pain was heartbreaking.
So over to y'all! What did you think of the episode? Should Deacon pursue a relationship with Rayna even though he's sick? What's Jeff up to with Layla? Can Will finally muster up the courage to come out to the public? Sound off below, and don't forget you can catch up with all the drama when you watch Nashville online via TVFanatic!
Amanda Steinmetz was a staff writer for TV Fanatic. She went into retirement in June of 2027. Follow her on Twitter.