Nashville Season 3 Episode 12 Review: I've Got Reasons to Hate You

Amanda Steinmetz at . Updated at .
Oh Teddy! Someone should have told him to never mix friendship and hookers. 
Teddy's hooker hookup has finally come back to bite him in the you know what on Nashville Season 3 Episode 12. 
Jeff Fordham continues to be a snake and the world keeps on turning.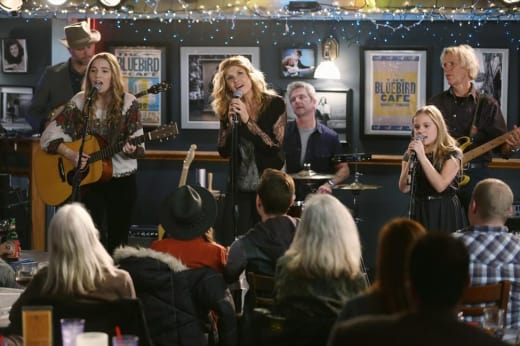 Honestly, this was the only way Jeff was going to get Teddy to agree to signing Maddie to the label. Good on the writers for setting this up over the last 12 episodes. 
Teddy will have a thunderstorm on his hands when Rayna hears the news. I fear there may be a custody battle on the horizon.
I don't think the good people of Nashville would take kindly to the Mayor's salary being used to pay for sex.

Jeff
Truth be told, this was a rather lackluster episode for me. There were some good emotional moments, but not enough to keep me anxiously waiting for more during the commercial breaks.
Rayna's storyline this episode felt slow and uneventful. She had that lovely duet with her daughters at the end, but I wasn't even really a fan of that song.
Rayna and Maddie won't be getting along so well when Maddie gets signed, so this was a nice mother-daughter episode before things get ugly. 
Deacon's story had more emotional heft. Beverly returned and reaffirmed how awful she is. First Scarlett had to beg her mom to take the test. Then Beverly lied about the results and said she wasn't a match even though she was. 
Again, awful human being. No cheesy family sing-along is going to make up for that. 
Yes, Deacon did ruin his body all by himself, but how could someone be so heartless? I hope we don't ever have to see her again. Deacon doesn't need someone like her in his life. Unfortunately, he still needs a new liver.
What's Rayna's blood type? She'd have no problem helping Deacon out.
I know I can fight this cancer, but I don't know if I can beat it. See the thing is, if I lose...uh there was a time when that wouldn't have mattered that much, but it does now. I got a daughter, and I got a niece, and I got...I got a lot of people I care about. They care about me, and when I think about not being there for them...You talk about feeling powerless. This is a powerlessness at a level that damn near overwhelms me. Truth is I'm terrified.

Deacon
Gunnar visited Micah because apparently he was acting out after learning about Jason's troublemaker history. They had some nice bonding moments, and Gunnar got to defend his brother.
Still, this storyline never really interested me so I felt bored watching it. 
At least I got a few chuckles out by watching a very pregnant and frustrated Juliette. Since she was pregnant during filming, she didn't get much screen time. I suspect this will be the case for the next several episodes, and that makes me sad. 
Juliette and Avery continue to be awesome and adorable. I love that he is so supportive and reassuring to her. 
She's also just hilarious. I actually laughed out loud when she was trying to get up off the floor and refused Glenn's help. She's also upping her sassiness and I'm all for that! 
Uh, touch my caramels and "Imma" cut a bitch. Love you.

Juliette
We got some long overdue time between Sadie and Rayna, but it didn't last long. I was very confused by the end of the episode when she all of a sudden didn't want to go to The Bluebird. I know we were supposed to be reminded of her abuse situation, but it seemed really out of place for her to all of a sudden not want to go. What happened with the restraining order paperwork she printed out in Episode 11?

Favorite Performance of the Week: Eh... Truthfully I got nothing for you. I didn't like Rayna's song with the girls. I really didn't care for the Claybourne family sing-along. Even though Maddie and Daphne sounded sweet during their studio session, I was too distracted by evil Jeff lurking about. 
So over to you guys? What did you think of the episode? Are you ready for Deacon to be honest with Rayna? Will Teddy get himself into a custody battle over this decision? Would you DARE try to take away Juliette's caramels? That's a rhetorical question because of course you wouldn't! Sound off below, and don't forget you can catch up on any missed episodes when you watch Nashville online via TVFanatic! 
Amanda Steinmetz was a staff writer for TV Fanatic. She went into retirement in June of 2027. Follow her on Twitter.