Nashville Season 3 Episode 14 Review: Somebody Pick Up My Pieces

Amanda Steinmetz at . Updated at .
Edgehill is no more which means artists, and their futures, are up for grabs. 
It was a feeding frenzy on Nashville Season 3 Episode 14, as all the labels tried to sign musicians and acquire Edgehill's masters. 
And like a slasher movie villain who can't be killed, Jeff manages to hang on to his career by the skin of his teeth.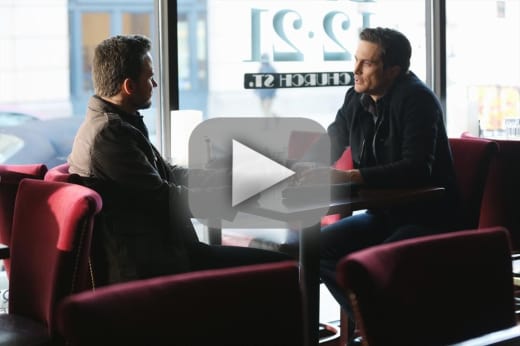 I don't know why I thought it would be that easy to knock Jeff out of the ring. Even after getting hired and fired by Luke, Jeff may now be Layla's new manager. 
Why Layla? Why? The poor girl is too blinded by her feelings for Jeff to see how toxic this could and probably will get. Yes, he believes in her music and even tried to get Luke to sign her, but I can definitely see him controlling her both professionally and personally. 
Also, Layla is now being signed to Highway 65. How is this going to work? There's no way Rayna will want to have anything to do with Jeff. 
I hope this doesn't get in the way of Layla's musical future. She made a good pitch and won over Rayna with her music. She just needs to get rid of Jeff. 
I've made a lot of mistakes for someone my age, but you know I can't really regret them because without them I wouldn't ... All I know is that I've finally found what I want to say with my music, and I just want to be on a label that lets me be me.

Layla
Teddy should have gotten rid of Jeff a long time ago because he wouldn't be in the mess he's in now. Is he the dumbest person on the show at this point?
Why on earth would he go to Natasha's house to discuss a cover story about them never being involved together? He probably should have just let it go because now a surveillance team knows he got involved with Natasha.
Why has a surveillance team watching and listening in on Natasha? They seemed shocked to see Teddy with her, so it clearly had nothing to do with their affair. Maybe she's tied to something bigger. The mob? That may just be me hoping someone takes a hit out on Teddy because he's my least favorite person on this show. 
Rayna may not have taken out Pete, but she may as well have. That woman is a boss, and I love her for it. 
I love that she stood by Sadie, and managed to help her sort out her legal problems while taking meetings with potential artists to sign. 
She also told Pete what I'm sure we've all been thinking.
Hey Pete. I'm not exactly sure what your problem is. Maybe the good Lord only gave you two inches. I don't know. But I'll tell you one thing. You ever try to contact my friend again or in any way mess with her, I will make it my mission to ruin you. And unlike you, I actually have the power to do it.

Rayna
Let's pray that this is the last we're going to see of Pete. Goodbye and good riddance. 
Scarlett managed to pull herself together to play a gig with Gunnar and Avery, and she asked out Doctor Hottie. Good for her. So can we now please have her stop whining all the time. Okay, thanks. Sorry not sorry. 
Deacon made the decision to forego the clinical trial and stay on the transplant list. I'm hoping this is a good sign and that a donor will come through for him. Deacon unleashed his frustrations at Avery, and I don't blame him. 
He's lost control over everything in his life, but music is the one thing he feels he can still control. Charles Esten has been doing a marvelous job conveying Deacon's emotions throughout this storyline. We just need some more scenes of Deacon playing music. Other than spending time with Maddie, music seems to be his only comfort right now. 
What we need more of his Juliette and Avery. I'd watch a spin-off with just these two lovebirds. He manages to say some of the sweetest things to her.
Juliette: The photographer sent over some highlights from the shoot. You wanna see?
Avery: Absolutely. Let's take a look.
Juliette: They [the pictures] don't bother you, do they?
Avery: Not at all. Now the world can see you the way I do. They're beautiful.
How very Demi Moore of Juliette Barnes. I'm all for pregnant women taking pride in their bodies like that. Instead of hiding underneath a tent, or designer tent as Emily put it, Juliette embraced her body and her new role.
Favorite Performance of the Week: There were very few options here, but I enjoyed seeing Gunnar, Scarlett, and Avery perform together. Scarlett is one of my least favorite characters, but she somehow becomes more bearable when she's singing with those guys. They have a great energy between them that's fun to watch. 
So over to you guys! What did you think of the episode? Are you surprised Jeff suggested Layla go to Rayna to get signed? Did Deacon make the right decision to stay on the transplant list?
What are your predictions for Nashville Season 3 Episode 15? Sound off below, and don't forget you can catch up on any drama you may have missed when you watch Nashville online via TV Fanatic!
Amanda Steinmetz was a staff writer for TV Fanatic. She went into retirement in June of 2027. Follow her on Twitter.