NCIS New Orleans Season 1 Episode 15 Review: Le Carnivale de la Mort

Kathleen Wiedel at . Updated at .
If your father was in jail, what story would you tell your young child?
On NCIS: New Orleans Season 1 Episode 15, we learned that Agent Pride only told his daughter happy, pleasant stories about his father Cassius.
Frankly, this B-story was far more interesting than the main plot, a convoluted story which was apparently all about a jewel heist. Um, okay. I guess.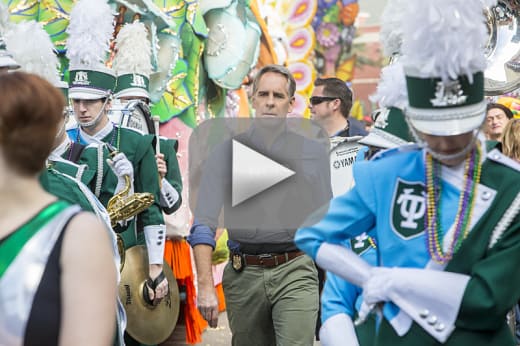 Let's start there, with the weakest part of the episode. I'll give the writers the benefit of the doubt and suggest that maybe the perpetrators here weren't the brightest bulbs, particularly Marv, the supposed "mastermind" of the scheme who orchestrated the murder of two people and then went ahead with the original plan anyway, apparently without expecting any interest from law enforcement!
I also question Marv's intelligence targeting the old-money family jewels to steal. Let's assume for a moment that his plot went off without a hitch. Now he's got a bag full of stolen jewelry that no fence with any sense of self-preservation would touch. How did he plan to hock the stuff, anyway?
Also worth mentioning is the extreme plot convenience that Agent Pride's incarcerated father was on Marv's former cell block and able to give them the crucial piece of information they needed (after a few angry threats from Pride, of course).
The idea of using isoflurane to knock out the intended victims was interesting, if unlikely. Sure was lucky for the criminals that there weren't any open windows, or that no one was standing by a door and escaped to raise the alarm. Finally, I'm not sure that their delivery system would work, since isoflurane is a liquid at room temperature. Admittedly, though, I'm no expert on the stuff.
The last thing that I'll say about the A-story is at the end I still wasn't sure what Petty Officer Patrice was up to when he was killed. Was he in on the jewely theft plot or not? Was he just following Cyd Lawson because he was suspicious? Maybe I missed something which cleared that up.
Let's turn to the good part: Stacy Keach did a fine turn as Agent Pride's incarcerated father, Cassius, whom we've heard mention of previously. It turned out that Pride's daughter, Laurel, had been secretly in contact with Cassius in prison, much to Pride's dismay. He'd only told her about the good times with Cassius, rather than any of the harsher realities:
Or how 'bout I tell her my most vivid Mardi Gras memory. Where a king cake was delivered to our house, and the prize inside -- a severed finger. Good times. You still think she'll think of you as her grandpapa when she knows that?!

Pride
It was a complicated situation, obviously, and it certainly couldn't be easy for Pride. Though he certainly reacted badly when he heavy-handedly ordered Laurel to stay away from Cassius without explaining why. It does put a particular shine on something Cassius said towards the start of the episode:
People think of you less as my son and more as a man of judgment.

Cassius Pride
It seems that Pride is sometimes also less a father and more a man of judgment, too.
And yet, despite the horrors his father visited on his childhood, Pride insisted on keeping Laurel in the dark about Cassius's true nature. I understand the impulse to let her think only the best of her grandfather, but it's one I don't necessarily agree with. She's not a little girl anymore, after all. Is Laurel going to start wondering why her grandpapa has been locked up for so many years, and why her father refuses to write a letter to the parole board? Will she become convinced that he's just a kindly old man who doesn't deserve to be in jail?
A few thoughts in closing, in no particular order:
Laurel's boyfriend Orion got a name-drop in this episode; he's apparently doing well in physical therapy after his near-death experience from a bomb in NCIS: New Orleans Season 1 Episode 11, "Baitfish."
Random trivia alert! One of Stacy Keach's recent roles was also named Orion, in Law & Order: Special Victims Unit Season 16 Episode 2,  "American Disgrace." His was far less admirable than NCIS: NOLA's Orion, though: Keach played the racist CEO of a clothing line who framed a star athlete for rape after discovering that said star athlete was sleeping with his daughter.
The NCIS team once again suffers from Enterprise syndrome at the end of the episode, going after the heist crew by themselves without a NOPD uniform in sight. I know that the police were supposedly "stretched thin" with the parade and all, but the criminals fled into the parade and not one cop appeared to help the team take them down.
I wonder how much fun they had filming that closing parade scene, where LaSalle went and pulled up his shirt like that. It seems to me that LaSalle always gets to have most of the fun scenes!
So, what do you think? Do you agree with Pride's choice to keep Laurel in the dark? What are your thoughts on Marv's plan? Let us know in the comments section below!
You can catch up on all the previous episodes right here at TV Fanatic when you watch NCIS: New Orleans online!