NCIS New Orleans Season 1 Episode 16 Review: My Brother's Keeper

Kathleen Wiedel at . Updated at .
Two pairs of brothers, two very different outcomes: clearly, brotherhood is a major theme of NCIS: New Orleans Season 1 Episode 16, which is indeed titled "My Brother's Keeper."
The episode was a bit heavy-handed at times (we get it: the foster-care system stinks), but it definitely had moments to recommend it.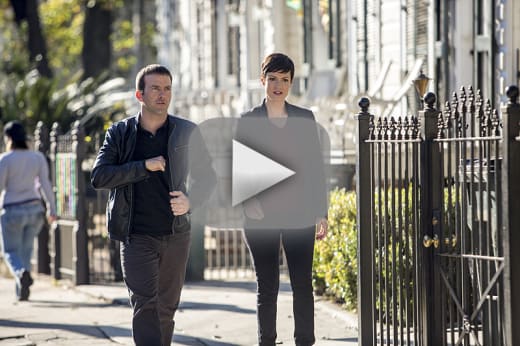 Let's start off with Cade and Chris, the Unstoppable LaSalle brothers. At the beginning of the episode, it seemed like Cade was doing quite well with his treatment, taking the medication for his bipolar disorder and attending group sessions, even if he was avoiding one-on-one psychiatrist meetings.
He was helping around the house and even tried to set up his brother with an old classmate, now in charge of the clinic where Cade was getting his treatment. Chris was a bit wary of his brother's behavior, and for good reason.
Chris, there's a difference between manic and happy.

Cade
I suspected that Cade was going to suffer a breakdown by the end of the episode, yet it was still painful to watch. I definitely give props to Lucas Black for his performance as Chris in that scene: his face was a mix of disbelief, hurt, sadness, and resignation as he faced the very obvious signs that Cade was passing through a manic phase.
I can only imagine the pain it would cause to be a close family member of someone suffering from bipolar disorder, as they swing between the ups and the downs. Chris has become, to a very real extent, his brother's keeper, because it's tragically clear that Cade can't be trusted to look after himself.
Things can still get worse, though – if Cade takes off again during his crash period, he won't have the moral support of his brother, and Chris will have to suffer through his own guilt and pain all over again.
Danny and CJ have a completely different story, but one that's fraught with pain, too. Their drug-addicted mother abandoned them, and Danny tried his best to support his brother on his own. Their father turned out to be a horrible drug dealer/murderer (and the perpetrator for the Case of the Week).
Danny was understandably wary of anyone who offered a hand, but eventually accepted the assistance of Loretta Wade, who gave the brothers a room in her home (doesn't Brody live there, too?) and Danny a job at the morgue. Loretta seemed to get on fairly well with the mouthy teenager:
Danny: I get you're some kind of doctor or whatever, but it don't really look like your patients do so good.
Loretta: Don't be a smart-ass.
They totally broadcast that ending, by the way, from that very first scene Danny shared with Loretta. It was predictable, to be sure, that Loretta would step up and give Danny and CJ a place, though I found Danny's swift agreement strangely out-of-place, given Danny's previous vocal reticence to accept any sort of trust.
However, I have to say that I loved the moment where Danny gunned the car and left Bull Costigan in the street like an idiot.
One moment that actually surprised me was when Sumner St. Croix, the "klassy" social worker, did a swan dive off the balcony. His life of ill-gotten luxury was crumbling around him, he was facing a pending federal indictment, and he saw no other way out. And he wasn't even the one who killed Maggie! 
Killing off the obvious suspect so abruptly was a definite change of pace from the writers' usual modus operandi, which is introduce the murderer in a totally apparent fashion early on and seemingly expect the viewers not to pick him or her out of a lineup within ten or fifteen seconds.
Then again, I wonder what it would have been like if Sumner were the murderer after all, instead of the thuggish, drug-dealing Bull.
Bull being Danny and CJ's biological father was an interesting twist, and his scheme to use CJ as a drug mule actually made some sort of (totally amoral) sense. Too bad for Bull, he was the bad guy on a TV show, so he got royally busted.
A few thoughts in closing:
Gillian Alexy, who played Savannah, previously played NCIS Special Agent Claire Keats in NCIS: Los Angeles Season 4 Episodes 18 and 19, "Red," a potential back-door pilot that was ultimately rejected after negative audience reception.
Speaking of Savannah, would it have been possible for them to have come up with a less stereotypical name for a 'Bama gal?
Correct me if I'm wrong, but doesn't Brody live at Loretta's house, too? Or maybe it was a property that was merely owned by Loretta. Then again, I might be remembering it incorrectly.
A kindly medical examiner gives a troubled young man an internship at the morgue? See also: Dr. Alexx Woods and Kyle Harmon in CSI: Miami.
Why did Bull use his car to kill Maggie, instead of getting out and just shooting her?
So, what did you think of "My Brother's Keeper"? Will Cade ever be stable for any extended period of time? Did you find the case of the week interesting? Were you surprised when the crummy social worker took a swan dive? What do you think of Savannah? Let us know your thoughts in the comments section below!
NCIS: New Orleans is off for a few weeks after February sweeps, but you can catch up on previous episodes right here at TV Fanatic when you watch NCIS: New Orleans online!