Let me start by saying I am not a fan of spiders. They have never done anything to me, but I'd rather they stay far away.
Going into New Girl Season 4 Episode 17, where the friends have to work together to get rid of a spider, I had no problem with any of their methods. 
Lets not waste anymore time and talk about how the friends worked together for the same common goal – getting rid of a spider.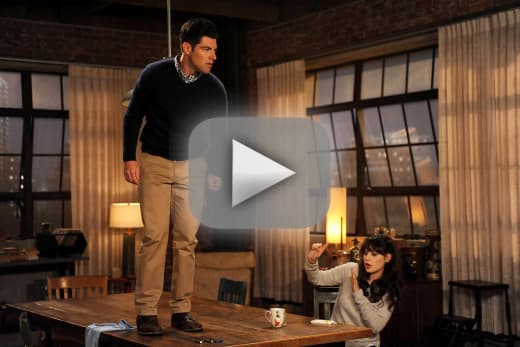 As happy as I am hearing Nick can cook at least one thing, sauce, I have to wonder why Schmidt of all people would enlist Nick's help in cooking dinner.
Nothing against Nick, but no matter how good the sauce is I'm not sure I'd want to eat any of it – Nick isn't known as the cleanest person in the world and I would seriously question everything he put in the sauce – we all saw the mustard, bologna and mayonnaise. 
Cece pining over Schmidt is apparently the only thing they are going to do with her for the rest of the season. Why can't the writers find something else for this character to do? The only great thing to come from Cece not being over Schmidt is the awesome friendship between her and Winston. Maybe they should do a spin-off of just Winston and Cece?
Why would Jess think Cece would ever have feelings for Nick? We all know Jess is a little on the naive side, but you can't tell me she would seriously think Cece would love Nick.
While the storyline fell flat I had to appreciate the hilarity of Jess talking with Nick about Cece and Nick thinking they are talking about a popcorn machine – so much innuendo in one conversation. 
Does it surprise anyone Schmidt's Instagram feed would be filled with same shirtless photo with different filters?
Nick described people who have an aversion to spiders perfectly:
Schmidt: Ahh! A spider!
Nick: Jess, why did you do that? You know how he gets, he turns into a cartoon elephant of yesteryear who just saw a mouse.

It's not exactly shocking Schmidt would want to have an all out war to take town the spider especially after hearing his story about pies and waking up with spiders all over him. You can't blame the guy for being deathly afraid of them and wanting to rid of the world of spiders. The funniest scene was hands down the moment Schmidt saw the spider web and was convinced the spider left it to breed more spiders. 
While tonight had some pretty funny moments it again fell flat. Schmidt's reaction to the spider was pretty spot on for people who are afraid of spiders and it offered some memorable moments – the spider being on Schmidt's face being one – but the rest of the episode was so stale.
We can only hope New Girl Season 4 Episode 18 will provide us with more laughs and a more structured storyline.
We only have six episodes left so go watch New Girl online now via TV Fanatic. 
Samantha McAllister is a staff writer for TV Fanatic. Follow her on Twitter.