Are you ready for the return of Once Upon a Time Season 4, TV Fanatics?
Or, perhaps we ought to ask the following instead: are you ready for a very different Emma Swan?
In a new teaser that debuted during the 2015 Academy Awards on ABC, Rumplestiltskin narrates a promo for Once Upon a Time Season 4 Episode 13.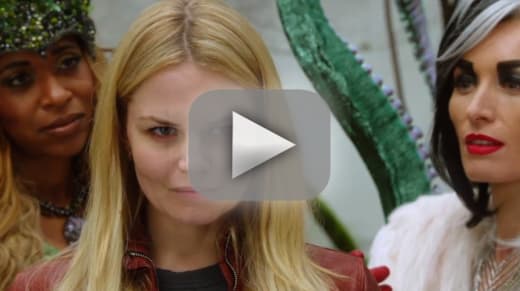 He talks ominously of "three ways to corrupt a hero," while explaining that for new villains Maleficent, Ursula and Cruella to secure their very own "happy endings," they first must locate someone who can be "molded" into a walk on the "dark side."
And who might that be?
Cue Jennifer Morrison as Emma, slowly letting slip a very un-Savior-like smirk in front of the Queens of Darkness. In a word: GULP.
In three words: We cannot wait.
Remember that you can watch Once Upon a Time online via TV Fanatic if you need to catch up prior to the show's return and set your DVR for Sunday, March 1 at 8/7c.
Matt Richenthal is the Editor in Chief of TV Fanatic. Follow him on Twitter and on Google+.