Pretty Little Liars Season 5 Episode 19 Review: Out, Damned Spot
Leigh Raines at . Updated at .
If there's one thing I hate, it's seeing people make our liars cry. Unfortunately, on Pretty Little Liars Season 5 Episode 19, I had to witness my favorite liar in tears!
Hanna's dad deserves a little kick in the pants, know what I mean?
She just wanted someone to have a little faith in her. It was random, but really sweet when Ezra ended up being the one to comfort her. I enjoyed their scenes together. 
Hanna: I wanted him to help pay for school. But you know what I wanted more than that? For him to look at me once and say "I knew you had it in you."
Ezra: I know that this isn't that same, but I used to be your teacher and I always knew you had it in you.
It just sucks because he is fully paying for his stepdaughter's college and it's a private Ivy League University at that. It's going to cost probably twice as much as anywhere Hanna applied. I have a feeling that this pageant is going to have some sort of A sabotage involved, but I'm looking forward to it anyway. Always love a dance scene!
So... Mike is public enemy #1 despite having such a yummy body that almost makes you forget what you're asking about. Aria stands up to her brother, but then she accepts having the door slammed in her face. Girl break down that door! Get your parents involved. I love Ella Montgomery!
Now who is Hank Mahoney?
Cyrus is supposed to hate Alison. (Really, who doesn't hate Alison?) So why would Mike do something to put the other liars in jail with her? Moreover, why would he do that to his OWN sister? Maybe he hates her from her past issues with Mona. Maybe there's a whole part of the story we don't know.
All I know is that if any of these people have ever watched CSI, Law & Order, or Dexter they would realize that you can't just add blood to a crime scene and expect for it to go off without a hitch. There are forensics and people whose job it is to figure out if a crime scene has been a tampered with.
The whole blood drive is a huge red flag that the girls are about to go down. Hello obvious!
Aria: What do we do know? We just wait until A paints the town red in our DNA?
Hanna: One drop here, one spot there, and kaboom; we're all sharing a jail cell with Ali.
Spencer: You are like the queen of not helping!
Meanwhile, Emily is still immersed in her love life drama. Talia seems even shadier now that she's been lying about her past. Now she's come clean. Would you trust her?
Spencer and Aria still seem fairly unconcerned with their love lives, but it looks like Toby and Spencer are going to have another showdown next week. I can't believe Spoby has come down to this! 
There's a lot I can't figure out on this show and right now the spotlight is on Mike. What do you think he's up to?
Don't forget you can watch Pretty Little Liars online at anytime here at TV Fanatic! Maybe it will help with your Mike theories! Have at it in the comments.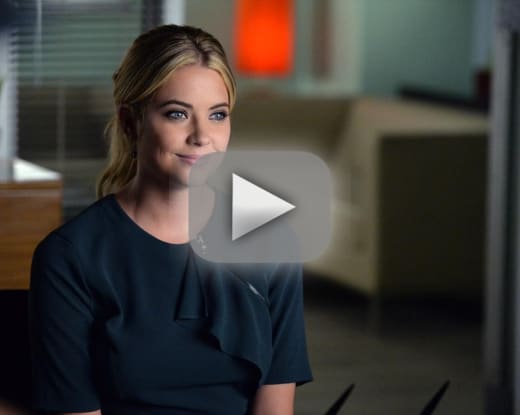 NOTE: Pretty Little Liars Season 5 Episode 20 will be titled "Pretty Isn't the Point" and air on February 17.