Pretty Little Liars Season 5 Episode 20 Review: Pretty Isn't the Point
Leigh Raines at . Updated at .
For a character that has been sidelined with boring romantic issues, Emily probably earned the role of favorite liar on Pretty Little Liars Season 5 Episode 20.
Em took a stand in regards to Talia, her friends and, of course, A.
In the past few weeks, we have lamented on the Pretty Little Liars Round Table that Emily just seemed kind of "over it." She was more concerned with her new love interest than all the A drama. And, why not? The A drama is tired and I'd be sick of dealing with a friend like Alison DiLaurentis.
Well, it seems that Emily does have a breaking point. One of them is being referred to as temporary experiment. In all fairness, if I were Talia's husband I would probably have similar feelings, praying that it was just a phase. Good for Em for standing up for herself.
The other breaking point was watching one of her best friends get pushed to the brim and then insulted by some loser pageant coach. I will admit that I used a much nastier word to describe the coach when she told Hanna that she wasn't "pageant material." F that noise girls! Although, honestly, watching Hanna dance was an...interesting experience.
Hanna: Emily stop. A's just gonna come after you too.
Emily: A can come after me any day of the week, anywhere. That's not gonna stop me from helping someone I love.
The Mike reveal was just plain crazy, although it did help explain why that video of Mona's fight was so fake looking. However, if Mona faked her death I'm going to be REALLY pissed. If a character dies, let them stay dead. Is this turning into The Vampire Diaries?
Personally, I think that Mona is really dead. I believe Aria's theory. I also truly hope that Mike wasn't lying, because he's been a massive jerk these past few weeks. 
Mike: I only went there to find out if she knew anything about A.
Aria: Because you think that A double-crossed Mona and killed her.
The one thing that I'm pretty mixed up about is Spencer/Toby/Jonny. Okay so Spencer and Jonny kissed. Everybody knew that Spoby was on the rocks. Toby threw her a little bone about how Tanner was watching them. Is that an excuse for his behavior? Nope, sorry. 
There has to be a larger reason for why Jonny was in town and why he got so close to Spencer. I'm still really suspicious of him and I definitely buy the theory that he could be related to Bethany. Did anybody else notice that A pulled out a tool at the end that looked pretty similar to what Spencer gave Jonny at the gallery? Maybe I'm just grasping at straws here.
Catch up on the craziness in Rosewood and watch Pretty Little Liars online anytime here at TV Fanatic!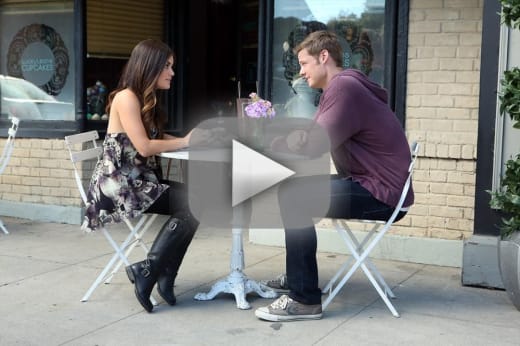 NOTE: Pretty Little Liars Season 5 Episode 21 will air on February 24 and be titled "Bloody Hell."