Pretty Little Liars Season 5 Episode 21 Review: Who is Varjack?
Paul Dailly at . Updated at .
Who is Varjack?
That was one of the key questions on Pretty Little Liars Season 5 Episode 21, as the girls finally attempted to make peace with Alison after finding out she is innocent.
That opening scene was very awkward. Emily, Spencer and Aria tried to prove to Ali that they were all on board with her, when it was obvious that Hanna wasn't. Regardless if she is innocent, Alison has done so many bad things in her life time that it's about time she paid the price.
Sure, her apology to Hanna at the conclusion of the episode seemed like it came from the heart, but this is Alison and she knows how to put on an act.
Aria was on a mission to make sure her brother stayed out of A's cross hairs after the events of Pretty Little Liars Season 5 Episode 20. It's crazy to think that if Aria didn't climb up on his workout bench that he could potentially have been seriously injured. It looks like Andrew is just in the fold as a red herring. I could make a big case for him being A, but that would just be based on his involvement in the last handful of episodes.
If he is A, the fandom would erupt in a fit of rage. This big A has got to be someone who has been there since the beginning. It needs to have a big payoff and link back to several early episodes, or it will all feel as though it's been thrown together at the last minute for shock value.
It was good that the liars finally rationalized about coming clean to Veronica. It'd be good if they did just come clean, but A's next move would be unpredictable.
Do we really want to rattle A's cage by telling now? We all know what happens when we do that.

Aria
Cyrus was the one who gave the girls the name Varjack, but just who is this? Considering the amount of questions we have that are never answered, or are just brushed aside, you shouldn't hold your breath to get an answer to this any time soon.
Elsewhere, Spencer hit the streets of London as her mom managed to talk Wren into getting Spencer an interview for Oxford University. Does anyone really think Melissa would let Wren help her sister? I'm not so sure. That could explain why they were out of town and left Spencer in the hands of Colin. He was just so stereotypically British. The scenes with him were almost painful to watch.
At the interview, a blood sample managed to smash in Spencer's bag and go over the royal furnishings of the guy's office. He wasn't best pleased when Spencer made her getaway without cleaning it. Who even does that?
It looks like Veronica has found out some information that could land her daughter in hot water again. Will Spencer get the shock of her life when she returns to Rosewood? Probably.
Talia got a little less annoying this week. She and her partner finally called it quits. I do think Emily is stupid rushing into anything with her. Emily's lovers don't exactly have a good track record of sticking around.
It's not about that, Emily, today's my last day. I already told Ezra I quit.

Talia
I think Emily was a little worried at the thought of Talia quitting her job because she would see much less of her. How will her mother react to her staying? I'm betting she returns early from her trip and catches her daughter in a compromising position. It won't go down well.
This whole glass slipper storyline was clearly a way for ABC Family to promote the new Cinderella movie. Let's hope tonight was the end of it.
"Bloody Hell" wasn't a very engaging episode. It seemed to have more questions than answers. This big A reveal better bring it, or the show risks alienating more fans.
Other tidbits from the episode:
The scenes of London looked so fake. I get that the show wouldn't have the budget to jet Troian across the world, but you'd think they'd have just cut the scene with her in the street out, or changed the location to an interior one.
Ashley is getting her happy ending y'all! Even if she doesn't deserve it, considering she cheated on Ted, but it's nice to see at least one person in Rosewood happy. We all know it won't last for long.
The nurse at the hospital was hilarious. Her comments to the girls were a highlight of the night.
Could A work in the prison Alison is in? It seems to be the case.
Did anyone else love the scene with Aria paying Veronica to be her lawyer?
Remember you can watch Pretty Little Liars online right here on TV Fanatic. Get caught up on the lies now.
What did you think of the episode? Is Andrew one of the bad guys, or is that just way too obvious? Chat with me in the comments.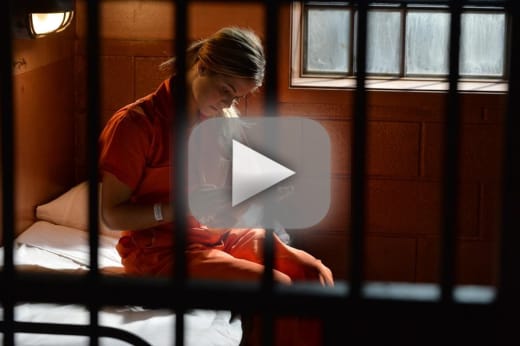 Note: Pretty Little Liars Season 5 Episode 22 airs Tuesday March 3rd at 8/7C on ABC Family.
Paul Dailly is the Associate Editor for TV Fanatic. Follow him on Twitter.