Reign Season 2 Episode 13 plays with your heart and makes you think things with Mary and Francis are finally on the mend only to shred your hope even worse in the end.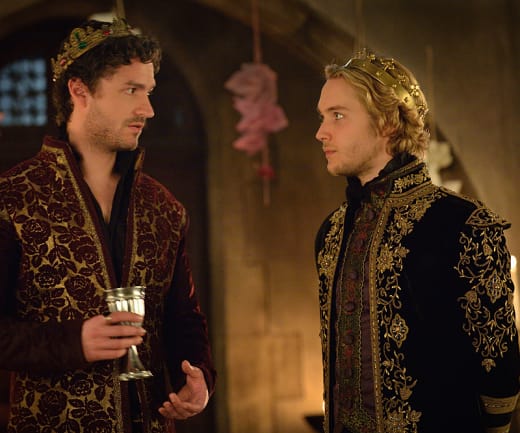 The episode starts off with hope in the form of a winter bloom signaling that Spring is near and so is a new beginning. Mary enfolds Francis's hands in her own and Frary shippers everywhere sigh. Surely these two will find their way back to the wildly romantic lovers they once were. Or will they?
The way Toby Regbo played the scene where Mary invited Francis back into her bed was exquisite. Breath held in hope, but fear he'd somehow misunderstood darkening his eyes. And then when he realized it was indeed a true offer, the slow and careful way he approached his side of the bed, as if afraid he'd send his skittish wife running. Beautifully done. And when Mary does indeed run, he offers tender comfort and women everywhere swoon. We want to see Mary heal, to feel safe and loved by her King. The long absent smile on her face as they're dancing at Winter Ease is a balm. But at the very end that sweet progress isn't just stalled, it's seemingly dead. But we'll come back to that.... 
I'm sure the entire arc with Bash and the town zombies is going somewhere -- perhaps having to do with the woman in white -- but I found it an irritating distraction in this episode. I just didn't care. I was far more interested in whether he did kill Marcus and if he and Kenna could work things out. 
The greatest amusement came from Catherine enduring "the cures" while Claude took obscene pleasure from her pain. Rose Williams made me giggle as she exhibited absolute crowing delight over the situation and Megan Follows was ingenious portraying her madcap maladies. There be dragons, or just one helluva formidable duo. The levity was needed and welcomed, especially as our hope for Francis and Mary came to a careening halt in the ending scene.
Francis: How could you send me to another? How?
Mary: Because I love you. And one of us should be happy.

How indeed could she send him to another? Will he give up on them and actually turn to someone else? To Lola? Ugh, if the writers have him do that I will not forgive as that will feel as if he too victimized her when all I want is for him to be the hero we know he is. The hero he so lovingly showed himself to be earlier in the episode.
Or will they play the cliche jealousy card as a means to get Mary to want him again? No, no, they better not. Hopefully Francis will see what we did, a scarred and scared woman who declared her love, stroked his hair and kissed him on the cheek, all of that more than she's been capable of for a long time. She is blooming again, slow and steady, under his tender patience. There may be set backs, but just like Winter Ease the thaw begins with a few petals and time. Just give her love and time.   
So, what did you think of "Sins of the Past"? Is there hope still for Mary and Francis? Did you swoon? Were you intrigued by the walking dead and woman in white storyline? And how funny were Catherine and Claude? 
If you missed out on all the hope and hilarity make sure to watch Reign online.
Reign Season 2 Episode 14 is titled "End of Mourning" and will air on Thursday, February 12.
Terri Clark is a staff writer for TV Fanatic. Follow her on Twitter.