Well, isn't Conde a popular guy?
He's far more popular than marriage. Given that Royals (or women) can loose everything if they commit adultery, they sure don't have all that much interest in the sanctity of marriage, do they?
It's almost hard to remember that the setting is France and under the keen eye of the Pope. Sure, Francis took care of him and drove the Catholic soldiers out of the country, but that doesn't mean they'd be happy to learn of the goings on in the realm nonetheless. There isn't a happy marriage in the castle at the moment.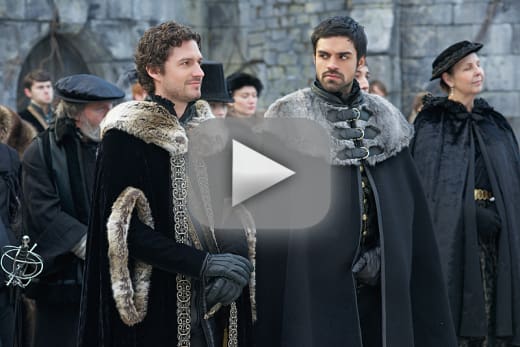 Marie de Guise was in town for her brother's funeral on Reign Season 2 Episode 15 and while there she took the time to clash with sullen Mary. She pointed out how important it is to have a child to secure her reign. 
Mary was angry and felt put upon, something she does quite frequently. The only person she can stand to be around for more than a minute is Conde. Her husband loves her, cares for her and puts her first. She cares not. She pretends that he reminds her of her rape, but is that it? I loved how he pointed out Conde somehow remained untarnished by the events of that night. Again, if she only knew.
After learning her mother was dying, Mary shared with her how she'll always be able to take care of herself and will not lose her country, come what may. Her determination sent her to Conde, to whom she suggested a new life in Scotland, where she intends to return to rule. She goes on the road with Conde, according to the preview for Reign Season 2 Episode 16, airing March 12. Will they make it to Scotland? It seems highly doubtful.
All of this makes sense, really. Francis is destined to die. What Bash heard from the Lady in White most likely refers to his death, although the early signs point to his marriage ending thanks to pesky King Antoine. Mary will return to Scotland to rule, eventually. She will bear a son, who will later become King. Some of the historical elements of this show will, most likely, play out.
Still, it's difficult as hell to watch the strife caused in the meantime and to imagine what it will mean to the show as Mary's life changes. If she goes to Scotland permanently, who will go with her? Her ladies? Will Greer be reinstated and make the move? Will Lola remain in France with her son, and Francis? Will Kenna remain with Bash or will she be Queen of Navarre?
These are the things that plague me now. It's no longer about who Mary chooses to love, because the story is more wide ranging than that. She's destined for greater and far more tragic things and this is, after all, her story. Where will it lead?
Other things of note:
Lola was a delight high on opiates. The unibrow baby mama? Oh my.
Can you believe Narcisse turned Lola away? Just when you think he's the worst.
Greer's life outside the castle continues to be very interesting. Charlene's short hair is adorable. Men of the age were not of good taste.
What will be Conde's fate and will it take place at the hands of Queen Elizabeth or Francis? Surely he'll not just off with the Queen of Scotland and suffer no damage at all.
Are you picking up on the clues to the future of Reign or are you content with the present and the love triangles? What would you like to see?
You can watch Reign online via TV Fanatic if you need to catch up.
Carissa Pavlica is the managing editor and a staff writer for TV Fanatic. She's a member of the Broadcast Television Journalists Association (BTJA), enjoys mentoring writers, wine, and passionately discussing the nuances of television. Follow her on Twitter and email her here at TV Fanatic.