Stalker Season 1 Episode 16 Review: Salvation
Paul Dailly at . Updated at .
What a way to end an episode.
Stalker Season 1 Episode 16 followed a young woman named Isobel who found herself being stalked. The writers changed it up again and the stalker was a freaking cult.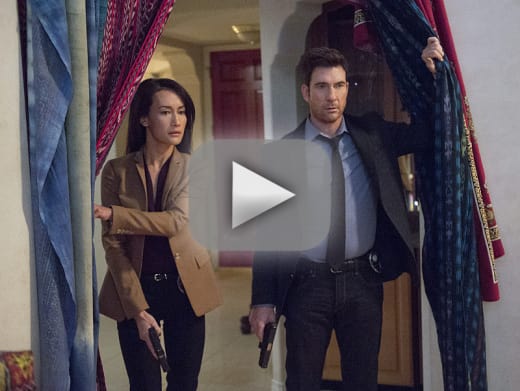 Firstly, we need to talk about those developments with Ray and Perry. Since Ray has come on the scene, Perry has paled in comparison to the character he was in the first half of Stalker Season 1. That's not a good thing. Ray has made it obvious he's boss and Perry doesn't like that.
This episode showed us that Ray is the greater evil. His method of thinking is that if they take everyone away from Beth, she will let them in. He certainly is a few sandwiches short of a picnic. I think a one way ticket back to his facility is in order.
You should see your face. You look like you regret ever meeting me.

Ray
The whole montage at the end made me think Janice was going to be attacked. Thankfully, she wasn't harmed. The same cannot be said for Amanda, who was crept upon and had her head hit off her car before going out cold on the road. I don't think she's dead, but it looks like Ray will be taking her as a trophy to get to Jack.
If she survives, which is almost a certainty, it's paving the way for a storyline involving them rekindling their romance. Obviously this would be good for their son, but I just don't see them being able to stick it out in the long run.
Elsewhere, everyone at the office seems to think that Jack and Beth are hooking up. Was anyone else surprised Janice wasn't a little jealous when Ben said they were heading for a hook up? I suppose this shows us how much she values her friendship with Beth. Sure, Jack has been sweet to Beth by watching out for her, but I think the two of them in a relationship could ruin the dynamics of the show. The show works best when they have conversations that seem forced and make the two of them feel uncomfortable.
With all this talk about relationships, you'd be forgiven if you forgot the team had a case to solve. The case was decent, but they need to stop with the best friend being involved in the case. That's three weeks in a row the friend has been involved in some capacity. It's wearing a little thin. Could this be a nod that in most stalking cases, your best friend is almost always involved? Quite possibly, but it isn't making for good TV.
Tonight, my family is a very social night.

Paul
The opening scene was chilling. The way the guy just approached Isobel was creepy. It looked as though she was going to be attacked in some way. When she was running through the corridors and no one would answer the door. You couldn't help but feel sorry for her.
Isobel's story was really good, but the case was just too damn convoluted to take it seriously. I understand the guy had a mental illness, but making a cult in his home and even making them work during the day, all for one girl? It's all very crazy. Kevin Williamson had clearly channeled The Following for this case.
"Salvation" was a decent episode that had many edge of your seat moments, but it also had a lot of flaws; especially with the case. It was still an enjoyable hour, but the show better bring it for next week's episode. It is potentially the series finale. In case none of you have heard, it's the last scheduled episode. CBS is taking it off the air with three episodes unaired.
Other bits from the episode:
The show continues to bring in a great range of guest stars. It was good to see Samaire Armstrong in a much bigger role than she played on Resurrection Season 2.
Amanda was totally wrong about scolding Jack for taking the kid to school. It was refreshing to see her apologizing to him.
The music covers continue to be a delight. They are probably the thing everyone most about this show. It really sets it apart from others.
Did Beth see some of herself in Isobel when she realized she had nobody?
Remember you can watch Stalker online right here on TV Fanatic. Get caught up now.
What did you think of the episode? Will Amanda survive? What will Ray do next? Hit the comments below.
Paul Dailly is the Associate Editor for TV Fanatic. Follow him on Twitter.