State of Affairs Season 1 Episode 12 Review: Here and Now

Carissa Pavlica at . Updated at .
We tell them the truth.
That's what President Constance Peyton suggested telling the American people at the end of State of Affairs Season 1 Episode 12 as they stood behind the leaked photo of Charlie and Nick walking arm in arm (or so it seemed at face value) on the cover on WNR with Omar Fatah. 
What is the truth? From moment to moment, nobody – not Charlie, not POTUS and certainly not the viewers – have any idea what it is. State of Affairs has given the best rollercoasters in the world a run for their money.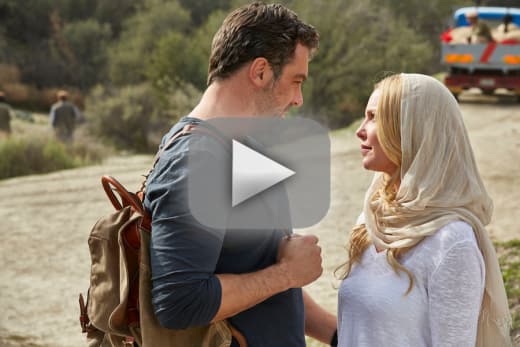 We should have known when Omar Fatah got a little too into his part in State of Affairs Season 1 Episode 11 that he wasn't acting. OK, so I kind of knew he was a few cards shy of a full deck, but it seemed like he was perhaps really into the whole Sheikh Hakam thing, not that he was Sheikh Hakam​. That was a surprise.
A lot of the current hour was a look back at how Charlie and Nick grew to know one another and, essentially, fall in love while on assignment. An hour reminding us we never knew Aaron and we really care very little about her love for him. It's kind of a shame her relationship with POTUS rides so heavily on her history with the President's son, because what we see between Charlie and Nick is real.
That's why what ultimately may have gone down really hurt and it was filmed to make the gut punch suck the air out of you even though the preview of Charlie crying and Nick looking skyward left little doubt what was to come.
Bellerophon was supposed to go a little easier than it actually went down. Acting Director Banks reminded Charlie of what she already knew – POTUS didn't really care what happened to the case agent in the field, but Banks preferred to get him home in one piece. So did Charlie. So did we. Because, well. This.
Chris McKenna has become the Sasha Roiz of State of Affairs but his contract calls for far more shirtless scenes. He's nice to have around. When the plans started going awry, everyone got a little testy.
There was a typhoon. Even the master Jack Dawkins couldn't swing in and extricate Nick Vera. When it got down to it, Nick decided to sacrifice himself to bring the whole ugly situation to a close. How? Fatah/Hakam gave him the radio to do it. 
Charlie, Charlie. Track my signal. I paint your targets. Charlie, repeat. My signal will paint the targets. Charlie, repeat. I am your target.


Nick
In watching the scene outside the tunnel over and over and over again, Fatah/Hakam didn't make it out. The old man who was masquerading as the figurehead was in the truck. He'll be noted as dead and gone; but he's not the man, is he? He's an old feeble pawn, the poor bastard. With his close proximity to the tunnel, did Nick take that upward glance as the bombs dropped and turn tail, diving inside? Would Grimm kill Capt. Renard?
Meanwhile, if POTUS made any sort of announcement about Charlie and Nick being heroes, Fatah being their asset and the death of the mystical Hakam prior to Charlie getting back to her with the news there is no Hakam things are going to be a bloody public relations nightmare.
Kurt infiltrating TKG on behalf of the CIA was another surprise. How did Kurt go from a sweet, sometimes goofy sidekick type to a badass in a matter of two episodes? Navaro saw something in Kurt that some of us may have glimpsed once or twice, but easily brushed over because of other motivating factors. Way to go Navaro!
So what is the story of TKG? Did they help Fatah rise through the ranks in order to get some kind of really frakked up world power or were they trying to keep tabs on him for some other purpose? They can't be good guys in disguise or Syd wouldn't have wanted out and Navaro wouldn't have wanted Kurt to investigate them. It's as if they helped Fatah create Sheikh Hakam in order to influence world events. If that's the case, then POTUS needs an air strike a little closer to home. 
As we know, I am batting absolute zero in my theorizing here, so they're probably doing something akin to bringing about impending world peace. Hey, I can admit my faults.
There is probably a lot I've missed. There is so much happening and it's at lightning speed. Hit the comments to talk about it and watch State of Affairs online if you need a refresher.
Be sure to be here for the season finale Monday, February 16 when State of Affairs Season 1 Episode 13, "Deadcheck" airs at 10/9c on NBC as Charlie gets back into the field to track down Fatah. She's not going to let him get over on her again.
If the photo for the hour says anything, she'll have him in her sites at point blank range. Will she take the shot or wait for his story? What would you do?
Carissa Pavlica is the managing editor and a staff writer and critic for TV Fanatic. She's a member of the Critic's Choice Association, enjoys mentoring writers, conversing with cats, and passionately discussing the nuances of television and film with anyone who will listen. Follow her on Twitter and email her here at TV Fanatic.