Usually it's the men causing all the trouble. But tonight, Suits Season 4 Episode 14 reminded us that the ladies can get things wrong, too!
From Donna's attempt to get Harvey and Mike back on the same page to Jessica's sudden change of heart, even the best intentions came back to haunt these leading ladies.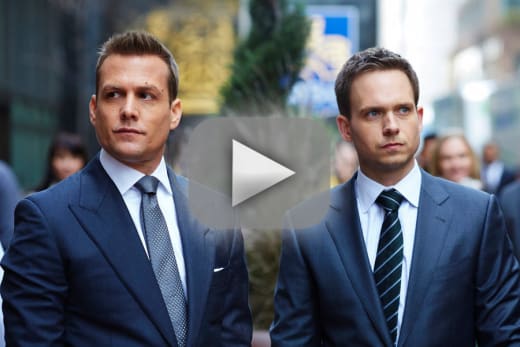 Before we attack what the ladies got themselves into this week, let's take moment to touch on what Mike was up to this week.
Obviously he took on a new case at the behest of Gerard. Silly me to think that his secret was going to be a major point of leverage for getting this case resolved. But I did find it interesting how doggedly he approached settling this case. Was it really about his parents? Perhaps simply a fear of time running out on his lawyering? I don't really know.
What I do know is the drama it caused between him and Harvey to the point Donna felt compelled to intervene. I am typically overjoyed when she does, but today that feeling is easily tempered by the implications her actions have.
I truly hate to see Donna in jeopardy again. Last time there was hope. This time there's the threat of prison. Yet if there's anyone around whom this team can rally, it's Donna. Donna doesn't do roommates, and she doesn't do orange. They have to help her out!
One person who won't be finding a way out of their life choices is Jessica. I commented in my review of Suits Season 4 Episode 11 that Jessica's half-truth to Jeff was going to come back to get her. Look's like I was right.
What's funny is that it's the result of Jessica wanting Jeff to bury the hatchet with Louis, the exact vulnerability she had left open. I see how the hole had to be plugged in order for Louis to feel completely accepted at the firm and that Jeff's prank was the one thing keeping that from happening. It just amazes me the holes we humans dig for ourselves at times without knowing it, only to have the bodies we buried rise from the dead.
Tonight, that body was the lie she told Jeff, and the result was an end to a relationship really on the cusp of blooming into something beautiful.
On another note, there was a between Harvey and Jessica where they are discussing the mistakes Harvey made in not telling Scottie sooner rather than later about Mike when he laid a hand on Jessica's shoulder in support before he left that spoke volumes. Those moments don't happen that often, so it really made an impression on me.
By the way, the #SaveDonna hashtag is in full effect in light of what transpired this week. Get it trending, Suitors.
So this isn't the first time we've seen Donna on the bad end of a case – only last time it was Hardman who had set the bait. Don't remember what I'm talking about? You will if you go back to Suits Season 2 and watch Suits online!
NOTE: Suits Season 4 Episode 15 will be titled "Intent" and air on February 25.
C. Charles is a TV Fanatic Staff Writer. Follow her on Twitter.