So many feels.
And what's worse, these feels were totally not planned for!
But that's exactly what made Suits Season 4 Episode 15 one of this season's crown jewels. Keep reading to find out why!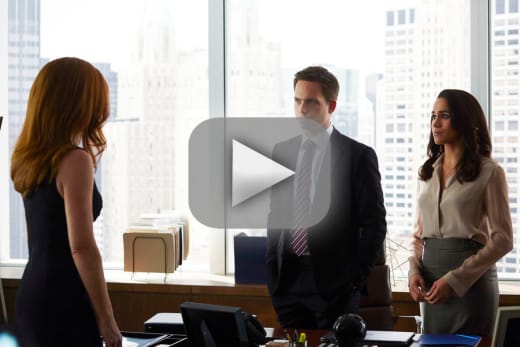 So let's just start with one of Sarah Rafferty's best performances as Donna that we've seen in a while. She's been a little but in and out this second half of the season, and reasonably so given all the Mike/Louis drama that has held strong.
We felt Donna's fear, her uncertainty, and her utter frustration with Harvey. We even felt her relief – and a little hope – in that apartment just as Harvey left.
But I think this performance hit a very particular nerve known to all Suits fans as Darvey.
Yes, that's the shipper term for Donna and Harvey. And, yes, this installment smacked us with it in ways most Suitors were not prepared for.
This leads me to Harvey's, "Donna, you know I love you." I almost thought he meant it in that cute familiar way and anxiously awaited that little smirk he so often gives. Yet, as the seconds passed, it became very clear the message he was trying to convey. Cue all the Darvey feels you can imagine.
I am still trying to figure out what led him to say it. It's not like his feelings towards Donna weren't indirectly made known in the way that he defended her doggedly and in every manner he could muster. This is not something unusual for Harvey, but he rarely refers to Donna as "different" in any context, and in this installment he did so more than once. We all knew what he meant, too.
Still, there's the question of timing. Why now?
While you begin to ponder that, I noticed something very interesting about the trajectory of Darvey in comparison to that of J-squared (Jeff and Jessica for those of you not in the loop). Notice that the louder relationship managed to literally battle to a better place, while J-squared seemed to go quietly into the night.
I guess it just goes to show that the relationships that are going somewhere aren't always in a good place, and the relationships nurtured constantly and undefined might actually be farther along in progression than you might suspect.
I was surprised that with all his talk of love that Jeff would have still walked away like he did, even though Jessica really did put herself out there as willing to work through their issues. Her sister Leah was right  – short of theft, cheating or murder, they could have made it work. So glad we finally me Leah!
Overall, this installment was definitely something to write home about, and certainly something I would recommend watching with as much frequency as possible between now and next week's season finale.
What is next for Darvey? If the promo for Suits Season 4 Episode 16 is any indication, it seems to me like Harvey might decide to leave the firm? Have you seen any evidence that move might be on Harvey's mind? Go back and watch Suits online and let me know!
C. Charles is a TV Fanatic Staff Writer. Follow her on Twitter.