The Bachelor Season 19 Episode 10 Review: Breaking Up in Bali
Miranda Wicker at . Updated at .
After last week's ouster of frontrunner Britt and cruise ship singer Carly, and with the reveal that Jade Roper posed for Playboy magazine in a rebellious teenage act, The Bachelor Season 19 Episode 10's trip to Bali with Chris Soules' three remaining women sounds like just what the Reality TV Love Doctors ordered.
Will Becca and Chris do the deed behind locked doors? Will Whitney put her baby-making knowledge to the test? Do Kaitlyn and Chris have the best chemistry of the bunch? Let's recap it all and find out now!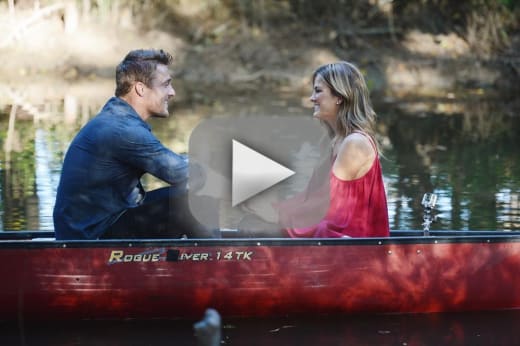 Indonesia was home to the "love" portion of Elizabeth Gilbert's Eat, Pray, Love and Chris Soules is hoping sparks will fly for him, too. Whitney, Kaitlyn, and Becca will each have one on one dates with Chris, but instead of roses there are invitations to the Fantasy Suite on the table.
Kaitlyn's date is first and she goes all in for the leg hug when she sees Chris. To start their date, Chris takes her to a temple where women teach them how to...meditate? Pray? They can't kiss while they're inside, but there's no explanation about what ceremony they just participated in. That's sort of annoying to me.
Chris introduces Kaitlyn to the locals as his girlfriend. Plus 10.
They walk around the village waving at locals and smiling and hugging and then a monkey crosses the street in front of them. All I can imagine is Vicki Gunvalson totally freaking out about the monkeys on their trip to Bali. 
The next thing Chris knows, monkeys are scaling his body and snatching bananas out of his hand. And peeing on him. Also Chris is a sweater. 
Kaitlyn is not sure she can handle the monkeys. She wishes she could be more like one though.
Oh look, they stop to sit and kiss a lot and there's nothing but the sound of their kissing and some cool Indonesian music.
Finally! Conversation! Kaitlyn's family liked Chris. A lot. They loved him. They don't really talk a lot about anything. They just kiss. Kaitlyn's really excited to "go there." 
In addition to monkeys there are cats randomly roaming around the private pool area at this resort.
Kaitlyn says she's definitely falling in love but totally scared to tell Chris how she's feeling and now they're kissing again. She's shaking and he asks why she's so nervous. She doesn't want to have a guard up with him, but she does because her last relationship trashed her soul apparently.
Nothing says "hey, want to invite me up to your room" like talking about how wrecked your last relationship left you, Kaitlyn. Minus 8.
Chris tells her not to hold back because he's really excited about what they have going. The day was apparently a great day, per Chris Soules telling us no less than 8 times that it was a great day, and he's hoping to make it a great night.
How awkward is the Fantasy Suite, guys? Seriously. He hands her an envelope with a key and says "hey, want to spend the night with me" and the assumption is that they'll get down to business behind those closed doors and then wake up and talk about it the following morning and then he'll go on to do that with two other girls. Nothing's weird about that at all.
She "can't imagine saying no" to that so they go check out their bathtub full of rose petals and drink more champagne. With cameras following them, of course. 
Because how could the camera miss the moment when she says she's completely falling in love with him? Oooh! But Chris is falling in love with her, too! Plus 8.
Get out, cameras! GET OUT. 
After spending the night with Whitney, and with no time to process, Chris is meeting up with Whitney for their date aboard a boat. She ALSO does the leg hug which makes me think this is some signature move this season. 
Remember! Whitney told Chris LAST week that she's in love with him and her sister didn't give him approval to propose. How badly this hurt her chances probably depends on how good his night was with Kaitlyn.
This ship they're on in the middle of the Indian Ocean is Plus 35 amazing. Gorgeous place! Whitney's body language says she's totally into Chris. 
She starts talking on the ship and says that their moment on this ship in the ocean feels totally normal and like sailing on a private yacht in the Indian Ocean is a thing she does every day. Minus 10 because Indonesia is a long, long way from Iowa. 
Her sister, Kimberly, is a big protector and worst-case-scenario thinker so Whitney worries that her non-approval has put her at a disadvantage. Chris says he's not going to hold that against her. Plus 3.
Of course they have to jump into the ocean to kiss some more both in the water and while soaking wet. Whitney's makeup is still flawless. Plus 8.
Chris had a great day with Whitney but he has questions. She looks fabulous in her green maxi dress. He's worried that asking her to give up her career to move to Arlington is too big a sacrifice to ask her to make.
(Whitney has "Cool Girl" written all over her. Watch out, Chris! She'll be staging her own disappearance and framing you for the murder...)
She's still hung up on hometowns and he's like "Uhh...there's a proposal coming...that's bigger..." 
She's the only one of the group who didn't see Arlington when they were in Iowa so she feels like she's at a disadvantage. Des Moines is two hours away. Chicago is three to four. And he just mostly sits at home and hangs by himself.
She says she wouldn't hesitate to leave her career because "life takes you places" and "it's not where you are, it's who you're with." If she leaves her career she'll just pop out some babies. Plus? Minus? Who knows...
And now he'll invite her into the Fantasy Suite where they'll practice.
He hands her the invitation and he says "What do you think?" and she says "Well, I've thought a lot about this and...I think it'd be great." I know I already said this, but AWKWARD.
At least it's not the same room. And we know that because 1) the curtains are different and 2) the bathtub is different. So there's that.
It's Becca's turn for a one on one and I keep confusing her with Megan who went home weeks ago. Minus 2
Let's play a game: Take a shot every time Becca says the word "virgin." It'll be slightly less sloppy than when Ashley I. was saying it, but we'll definitely sleep better with a solid buzz. (We're up to two.)
Becca's never been in love before so that's strike one. Chris takes her for a walk around Balinese farms and they pose with kids in the street. And now they're in a temple. With a psychic.
Chris asks if they're meant to be together and the psychic says they are a very good couple. Plus 3.
Becca asks if Chris will be a good dad some day. The psychic says they will both be good parents. Plus 3.
Chris asks what her biggest weakness is and the psychic says she's hard to control. Minus 2. 
Becca asks about their big date for the night and the psychic tells them "making love." Welp. There goes the awkward again. She laughs it off and he's all "Oh yeaaaaaaaahhhhhh...."
Becca said virgin! Take a shot! 
It's do or die moment for Becca. And by "do" we, of course, mean tell him she's not giving him the V-card until he puts a ring on it. 
Becca said virgin! Take a shot! (We're up to four.)
Chris may not want to wait but Becca's "having very new feelings." Oh goodness. Her plan is to get him to the point of wanting to invite her to the Fantasy Suite and THEN tell him "oh, by the way..." 
Because Becca's never been in love before, Chris is scared she won't be able to get to that point with him. Because never being in love before means it can't happen? What? #ManLogic
She brings up Arlington and how small it is and he says it's about making a life there. She says she would have to be sure of their relationship before making a move there and that makes total sense for any relationship and giant life move at all. Plus 10.
She tells him the kinds of feelings she's having and that she thinks those are love feelings and asks what he thinks. He says he's falling in love with her and UH OH HER PLAN FAILED.
He presents her with the Fantasy Suite invitation and he's all "yeah, let's do it!" And she's probably about to vomit. 
Becca said virgin! Take a shot!
She sits and stares at him for what seems like an unusually long time and I have to hope that was just editing because if it wasn't...
Becca said virgin! Take a shot!
So now she has to have this conversation with him because she has the card in her hands and they keep kissing and he's probably just thinking about how he's getting lucky three nights in a row except he's not. 
She tells him she would like to spend the time alone with him and he says he agrees and this is a big deal but she STILL HASN'T TOLD HIM. Minus 3
"I'm really looking forward to tonight..." And he's talking about intimacy and spending the night together and he hopes she's as excited as he is and here it comes.
"I've never been in love and I'm falling in love with you but I'm a virgin."
Well, she says she has something very important to share with him and he's probably expecting her to reveal she has a kid or something but she says, after another super long pause, that she's a virgin. (Take a shot!!)
He lets out the most disappointed sigh known to man and tries to recover and respond but what do you say? He says he respects that in a lot of ways, it surprises him, but it says a lot about who she is. 
"His response was perfect!" Oh, Becca.
So the morning after, Chris and Becca had a serious conversation about their future and now he doesn't know where she stands. He's terrified. She's taking a weird and lonely walk down the beach for dramatic effect and Chris is just panicking about the decision he has to make.
Whitney and Kaitlyn have said they're confident about moving to Arlington but Becca has reservations. The poor guy looks like he's about to cry when he thinks about having to send one of them home.
Oh, nope. He totally cries. He wants all three of them to meet his family but he can only choose two. Tough life. 
Before heading into the rose ceremony, Chris and Chris sit down to chat and Chris Soules says he's afraid of having regrets. He's struggling to figure out the right answer but he's getting major props for understanding this isn't a fairy tale and there are no guarantees that this relationship will last. Plus 10.
Chris Harrison is completely unhelpful with his "so you're not even sure who you're planning to send home today..." THAT'S WHAT HE JUST SAID WERE YOU LISTENING?
Chris Harrison is totally unhelpful as he walks Chris through all three women and asks him if he's falling in love with each of them. Totally, completely unhelpful. Minus 10.
And now we get the long, dramatic shots of Chris Soules deep in thought. Or not. It's time for the rose ceremony, which will be held inside a temple where the most affection which can be shown is holding hands. Chris Harrison explains this like Chris Soules is going to jump the ladies when they walk inside the temple.
Kaitlyn says Chris has all the qualities she would want in a husband. Whitney is head over heels for Chris and feels very confident that they're headed to the altar. Becca says he's an amazing guy and she's emotionally drained because of their parting conversation.
Chris tells the ladies that the decision he's about to make will be nothing short of excruciating. (But not as excruciating as it is for us at home to watch it play out.)
Before he can make any decision at all, he asks Becca if they can speak privately. She obliges and Whitney immediately begins smiling and talking to Kaitlyn. They can't figure out what's going on but they think he's sending Becca home.
Just before he has a giant decision to make, Becca tells him that she's crazy about him and the only credit the show gets is for introducing them. She's falling for him. She gets a "I really like you" in response. Minus 19
Scale of 1 to terrible this is not going well.
She's willing to do whatever it takes to get to the point of discussing Arlington with him again. He's trying so hard to send her home right now and he just can't pull the trigger. 
Back at the ceremony site, Kaitlyn tells Whitney her gut is telling her that Chris is saying goodbye to Becca. She doesn't want to feel happy about this but she totally feels happy about this. 
She was wrong. Oops?
Chris comes walking back holding hands with Becca and Whitney immediately stops smiling. Kaitlyn utters an "oh shoot!"
Whitney immediately starts dogging Becca's lack of life experience and saying that if Becca's right for him she's not right for him and it's OMGSOHARD to stand next to the other women. Minus 12
He apologizes for making them wait and then picks up the first rose. Which he gives to Whitney. 
Then he picks up the second rose. This one goes to...Becca. 
WHOA. Kaitlyn can't make eye contact with him and refuses to be greeted by either of the other women. He asks if he can walk her out and Whitney can't stop smiling. I'd like to kick her in the teeth. Kaitlyn's about to burst into tears and Whitney's grinning!
He says he's so sorry and she allows him to hug her. She doesn't hug him back. She just asks what happened. He says nothing happened but there are just things he doesn't understand right now. He just had to make a gut decision that made no sense and he doesn't know if he made the right decision. 
He's basically telling her he doesn't know if he's really screwing this up and just keeps calling it excruciating. He's a terrible breaker-upper. He just keeps saying there's no real right decision. Except, you know, there IS, and it's following your heart and/or maybe not going on a reality TV show to find love. 
She finally lets the tears fall and says she doesn't want to get in the car. But she has to get in the car. Ugh. This is devastating. 
This was probably a terrible choice that Chris just made and it seems like he probably knows it. He doesn't even go back to see the other girls and just sits down on the sidewalk and cries.
You have to watch The Bachelor online to see it all for yourself.
EPISODE TOTAL: 24 SEASON TOTAL: -142
Next Monday night is a night you won't want to miss. The women will tell all on The Bachelor Season 19 Episode 11!
Miranda Wicker was a Staff Writer for TV Fanatic. She retired in 2017. Follow her on Twitter.