The Blacklist Season 2 Episode 9 Review: Luther Braxton

Sean McKenna at . Updated at .
The Super Bowl showdown between the New England Patriots and the Seattle Seahawks was a tense and action-packed battle to the bitter end. And the special episode of The Blacklist that aired right after was no different.
Of course, The Blacklist Season 2 Episode 9 had the tall order of appealing to fans of the series and new viewers that decided to stick around after the big game.
That said, ramping up the action, providing a menacing villain, teasing that larger mythology of the series, adding some fantastic guest stars (yay for Ron Perlman and David Strathairn!) and letting James Spader be James Spader worked wonders for the hour.
I think the episode really stepped up to its massive task.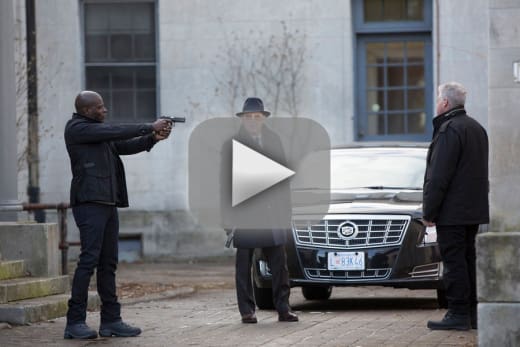 What really helped was the simplicity and focus of the story. Yes, there were those larger connections for fans who have been watching since the beginning of the series but, for anyone just tuning in, the introductions of the characters at the outset and the defined goal of getting the Fulcrum were easy to follow.
I loved the addition of Perlman as Luther Braxton, especially in how the character killed off anyone without hesitation. It made him a scary opponent because he was willing to get his hands dirty, and it amped up the stakes because it made me unsure just how everything would go down. Would he actually end up killing a main character?
He didn't, but there were a few moments where I kept wondering if it might, just might happen (for Samar and Donald, not Liz or Red).
It was also fun to hear Luther banter with Red about his Nietzsche quotes and fancy clothes.
But to get Red go guns blazing in a really well-shot action sequence was even cooler. So often, Red stands around making his quips but, this time, we really got to see him get into the fray and in such confident and badass fashion.
Luther may have called Red out, but Red definitely pulled it all together by the end.
It was interesting to learn that Red got himself caught (he does that a lot, doesn't he?) in order to try and get the Fulcrum, something that secret group thought he already had. Without it, he didn't have any leverage, and it would certainly be open season on his head.
Who better than Strathairn to play the character leading that group? I'm really looking forward to him recurring on the series as we delve deeper into that aspect of the show.
Yet, it was the teasing clue that Liz was integral to the Fulcrum that had me trying to guess what it all meant. Certainly Luther's realization at the end and mentioning her as "the one" added to that intrigue.
And, right when it seemed answers would be revealed, that well-timed explosion put everything on a cliffhanger ending. What an explosive finish.
This was definitely an engaging hour that found a way to make it accessible to new viewers and was just as exciting for fans already watching.
I'm just glad we only have to wait until 9 p.m. Thursday to see the conclusion of this story and what hopefully really changes the gears for the rest of The Blacklist Season 2.
Was this a touchdown episode for The Blacklist? What do you think Liz has to do with the Fulcrum? Sound off below, and be sure to watch The Blacklist online if you aren't already.
Sean McKenna was a TV Fanatic Staff Writer. He retired in May of 2017. Follow him on Twitter.