The Following Interview: Kevin Bacon on New Threats, New Romance & More!

Stacy Glanzman at .
What's in store for Ryan Hardy on The Following Season 3? 
Kevin Bacon recently spoke to the press via conference call and dropped some hints on this season's new villains, love triangles and a whole lot more.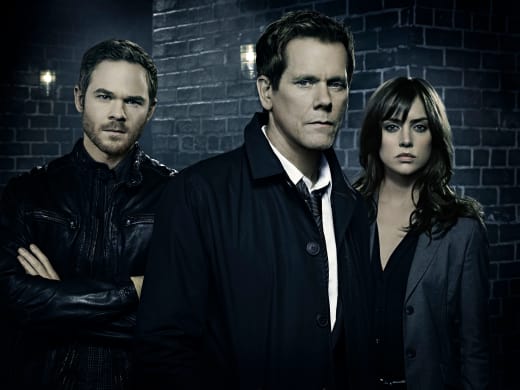 When the show picks up one year following the events of The Following Season 2 Episode 15, Ryan is finally happy, even in a new relationship with Gwen, played by actress Zuleikha Robinson.
When asked what we can expect from Ryan and Gwen this season, Kevin teases that "she truly is the right woman for him." 
He went on to say: "This is the girl that I should be with and the struggle of trying to keep that relationship together, in light of this incredibly difficult and bloody and stressful job that I have, is part of what is going to be the backbone of the season."
It sounds like Ryan's relationship with Gwen will be significantly more stable than the ones we've seen him in so far. Claire, being the wife of a serial killer, was "probably not the best person that I should be involved with," Bacon said.
Then there was tabloid journalist Carrie, and Molly, "who ended up being one of Joe's followers and stabbing me." 
Here's hoping Ryan's luck has changed with Gwen! 
Joe Carroll begins the season on death row and will not appear in at least the first two episodes. However, according to Kevin, he "is still a very big presence in my life."
But what about the season's new threats? "We have a fantastic, loving, and extremely beautiful couple named Daisy and Kyle who are terrible, terrible sociopaths but incredibly in love with each other. They're almost like – they're kind of reminiscent of Bonnie and Clyde or Natural Born Killers. I think they're a lot of fun."
Michael Ealy also joins the cast as a series regular playing new villain, Theo. I wanted to know how he was going to differ from the other major villains, Joe and Mark. Luckily, Kevin answered my question before I'd even had a chance to ask it: 
"What's interesting about the character is that he's actually a guy that prefers to be behind the scenes, to not be in the limelight. You'll see pretty quickly that that is equally as chilling and equally as terrifying. The shark that swims beneath the surface of the water." 
Could there be a love triangle this season? When we last left off, Max and Mike had finally kissed, but when the show picks up the pair has split and Max has a new beau. So what do we know about new boyfriend Tom and what does this mean for Max and Mike?
"He's a good guy. He works hard. He's in the FBI. He's SWAT so he's a badass and you can't really fault the guy. So I think that makes for a much more complicated kind of decision making process, both for her and for Mike, and let's remember that he's (Mike) the one that split. She begged him not to." 
It definitely sounds like if Mike wants to win her back; he'll have his work cut out for him. 
Speaking of Max, she's joined the FBI this season. I asked Kevin how protective Ryan will be of Max now that she's joined the agency: 
"You know, I will throw myself in front of a bus for Max and, you know, one of the craziest and most angry that I get in the course of the season has to do with something that happens to Max. It has to do with her not being protected in a way that I find absolutely unacceptable." 
I know I can't wait to find out what that "something" is. How about you? Tune into The Following Season 3 Episode 1 on Monday, March 2 to find out!
If you need to catch up, you still have some time. Watch The Following online via TV Fanatic online so you're not left behind.
Stacy Glanzman was a staff writer for TV Fanatic. She retired in March, 2019.