The Mentalist Series Finale Review: The Perfect Wedding

Christine Orlando at . Updated at .
It was the series finale of The Mentalist and where do I begin? Let's start with a personal note… I've watched The Mentalist from the very beginning and was almost immediately hooked. It had an intriguing story and engaging characters from the start. 
The Mentalist was also one of the very first shows that I began reviewing here at TV Fanatic so it has a very special place in my heart. It's always sad when one of your favorite shows ends, but I much prefer to, as Jane said to Lisbon in the end, look at the bright side.
Thanks to a devoted fan base, CBS gave us this final season to wrap the show up properly with The Mentalist Season 7 Episode 12 and The Mentalist Season 7 Episode 13 did not disappoint. 
Before we got to the good parts, because who wasn't waiting for the wedding, we had to deal with one last serial killer. Lazarus was truly creepy. He kept his father's corpse in the basement and wanted Jane to help him connect with Dad in the great beyond. He also stole blood from the people he killed in order to perform some kind of bonding ritual with dear old Dad. Oh, and did I fail to mention that Dad was most likely also a serial killer?
Watching the team try and figure out exactly what the stolen blood was for was fun, as everything from Satanic rituals to vampires were mentioned. As Jane pointed out in this The Mentalist quote…
Well he is stealing blood from a corpse. He's got to be doing something weird with it.

Patrick Jane
Wiley really stepped up as he stood his ground and pointed out to Abbott and Cho that checking out the occult book store was something Jane would do. That doing the usual thing will get the usual results. Wiley's coming into his own and it was a great moment when Cho smacked him upside the head and asked him to stay on his team.
I was grateful that we got to see Jane in his "psychic" mode one last time, simply because it's always entertaining watching Jane read people so well. But the moment the house blew up, I figured that Lazarus was still alive. I wouldn't have minded if he were dead in that explosion but I knew that was far too easy. 
Teresa was terrified as she ran up to the house. She truly feared Patrick was dead inside and she got a bit of a taste of the fear that Jane's been carrying around with him for quite a while. 
There were several great relationship moments between Patrick and Teresa in these two hours. First off, Teresa came out and asked Patrick about his wedding ring and I was so proud of her for doing so. They've been together for a while now and she had every right to ask the question. 
Are you going to take off your wedding ring? It just, it seems like you don't want to let go of it.

Teresa Lisbon
The question alone seemed to push Jane to take a closer look at why he continued to wear it and what it meant to him. It was a connection to his past but now he wanted to look towards the future. And that's when, as they sat near his beautiful, little cabin in the woods, he asked Teresa to marry him. 
It was a moment kept simple. "I want you to be my wife. Will you marry me?" And Teresa looked completely awe struck as she told him yes. It was equally sweet when Patrick admitted to being nervous about her answer…
Teresa Lisbon: You knew I was going to say yes.
Patrick Jane: Even after all these years you're still a mystery to me.

Then the fun began as Lisbon went from deciding on a wedding with just the two of them, to her brothers coming, to just a few friends and then before she knew it Abbott had hired a caterer and she was completely overwhelmed. 
One of the most wonderfully unexpected scenes was Lisbon asking Cho to come along to help her pick out a dress. Leave it to Cho to be brutally honest and his commentary was priceless as he described each individual look, "Makes you look short." "Snow cone," and then there was the "slutty Elvis" look. I don't think I've ever loved Cho more. 
Back at the FBI, Abbott talked to Jane about his future. If Jane plans to leave the FBI, then they have some legal matters to wrap up and I was thankful that they brought up that fateful napkin contract they'd written out so long ago. But Jane wasn't sure what he wanted yet…
Jane: I can't do this job forever but it's going to be hard to give up.
Abbott: Yeah, it's hard giving up making a difference.
Jane: No, everyone makes a difference. Hard to give up the chase.
Then he played Abbott like a fiddle and got him to admit that Lazarus was still alive. It was only a matter of time before someone called in a tip on the man. He was wandering around town looking like a character from The Walking Dead.
The saddest moment was when Dan Glover was killed. In his interview with Jane, he admitted to recently having a baby girl. All I could think as he was being stabbed to death was how he'll never get to watch her grow up. 
Lazarus being alive and out to get Jane was the perfect reason to change wedding plans once again and Teresa was pushing towards eloping…
Patrick Jane: What about your family?
Teresa Lisbon: Oh they wouldn't care. I just talked to them at the hotel. They found the mini bar. They're like cavemen arguing over a dead antelope.

I also loved that we got to see Lisbon with her family one last time and of course Rigsby and Grace being their to help celebrate was a special treat. 
In the end the wedding was perfect. The bride wore off-white and carried a gun in order to take down a serial killer. Then she exchanged the gun for a bouquet and it was time to tie the knot!
You see how much better things turn out when you're honest with me.


Teresa Lisbon
Teresa looked beautiful in her simple, elegant dress and of course Patrick was handsome, but what stood out the most was that the two couldn't stop smiling. I don't think they've ever looked so happy in all seven seasons. And the final moment when Teresa revealed to Patrick that she was pregnant was a truly sweet surprise and one I didn't see coming. After all of the horror he's survived, Patrick Jane finally has his chance at a fresh start and real happiness with the woman he loves. 
I want to thank all of The Mentalist fans out there who have read my reviews and round tables over the years. You've been amazing and sharing this show with you has been my pleasure. For those who are upset that the show has completed its run I have only one bit of advice. Don't cry because it's over. Smile because it happened.
And please check back here on Monday for our final The Mentalist round table and then later next week as I submit my report card for The Mentalist Season 7. 
As always, you can watch The Mentalist online right here at TV Fanatic.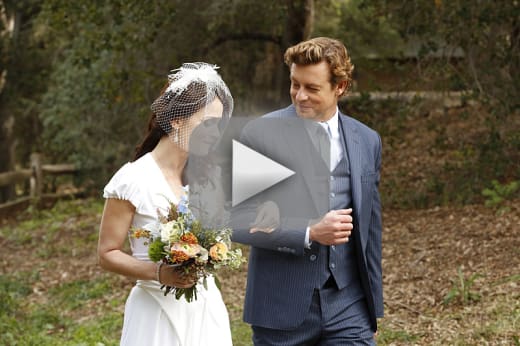 C. Orlando is a TV Fanatic Staff Writer. Follow her on Twitter.