Did the Will & Grace reunion live up to expectations?
As a huge fan of Will & Grace, I was so sad when it ended. When I heard Eric McCormack would be playing Laura's ex fiance on The Mysteries of Laura Season 1 Episode 16, I couldn't help but be excited.
Thankfully it was not a disappointing reunion and we were treated to an interesting case.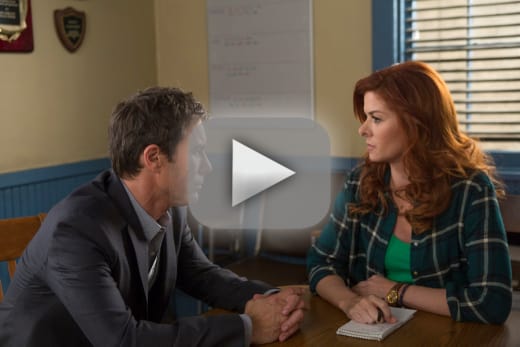 You can't deny The Mysteries of Laura always comes up with interesting ways to murder their victims. When Emma was swatting the fly, I was sure she was going to find a dead body stashed somewhere so I was actually surprised when she became the victim. Our favorite medical examiner was on the scene to officially confirm she's deceased.
I loved the way they introduced Eric McCormack's character Andrew. It's clear he's a complete jerk and rather full of himself and we all had to be wondering why Laura, of all people, would fall for suck a jackass. Granted he's extremely good-looking and the smile he gives can make any girl melt; I get it.
Billy: Do you know this jackass?
Laura: I almost married this jackass.
You could just feel the jealousy coming off of Jake when he was watching Laura interrogate Andrew. I couldn't help but laugh when Jake just couldn't take it anymore and had to go in to check on the interrogation. It led to a very awkward meet and greet between both of Laura's ex's. We just needed Tony to come walking through the door next and we would have had all of Laura's men together.
Why must suspects always run? If you want to prove your innocence, running away from the cops is not going to help you. Something which also puzzles me is when the suspects run away they always assault one of the cops, yet they never get booked for assaulting said cop. 
Tonight I really liked Frankie. I know some people are annoyed by her presence and they don't think she's needed, but I find her a refreshing change. Frankie has a great personality which meshes well with everyone at the station. I'm actually looking forward to seeing what they do with Frankie and how she will fit in for the rest of the season. I also liked the pairing of Meredith and Frankie – it worked extremely well.
Max had me cracking up again when he was talking to Frankie about his aunt passing away and he was supposed to go to the funeral, but he accidentally told everyone he was engaged. His reaction to Frankie offering up her service to be his fake fiance was too much and then making sure she knew he was, in fact gay, was hilarious. My love for Max just keeps growing with every episode.
Frankie: I just thought that if your family was super traditional, they don't know you're gay.
Max: Please! That closet door wide opened back when I demanded to be Mariah for Halloween three years running. No, No. My mom's dying to throw me a big fat gay wedding.
Andrew deserved a nice punch in the face when he was asking Jake questions about Laura. As attractive as Andrew is, I fully understand why Laura didn't trust him. It's clear they had a great relationship at one time, but they were far too young to get married; though, when Andrew showed Laura a picture of them back in the day, I couldn't help but think of them as Will & Grace. 
I was on Laura's side when she asked why everyone had a key to Emma's house. Apparently Emma gave every single person she met a key, which made the case even more difficult for Laura. It wasn't a huge shock when Emma's sister came into the station and pointed a finger at Andrew as the one who killed Emma – we all knew it was heading in that direction.
Jake was extremely irritating tonight, and while I understand where he is coming from in regard to Laura not being involved with the case, he was being a complete jerk to her. While he was ranting and raving about Laura being too close to the case, he needed to listen to Billy and just trust her. Laura is a great detective and she knows how to read people – they need to just let her do her job. 
We all knew Andrew wasn't the killer even when they recovered the weapon off of his boat and I can't say I am entirely surprised by Emma's sister Connie being the killer. When Connie was giving her interview, something just didn't add up. Still, it was an interesting case despite it being easy for the viewers to solve. Most importantly, we got Eric McCormack on our screen and it was clear the chemistry is still there between the former sitcom stars. 
It looks like we are in for another exciting episode next week on The Mysteries of Laura Season 1 Episode 17, when Laura joins a sorority to get to the bottom of why college women are dying during Rush Week. 
There's only a few episode left of The Mysteries of Laura. Be sure to catch up and go watch The Mysteries of Laura online now via TV Fanatic. 
Samantha McAllister is a staff writer for TV Fanatic. Follow her on Twitter.