American Idol Season 14 is back in Los Angeles after a two-week stint at The Fillmore in Detroit, MI. Tonight, the Top 12 will take the stage to begin singing for our votes.
Which is what I thought they've been doing for the past two weeks, but what do I know? Apparently voting starts now. Shrug.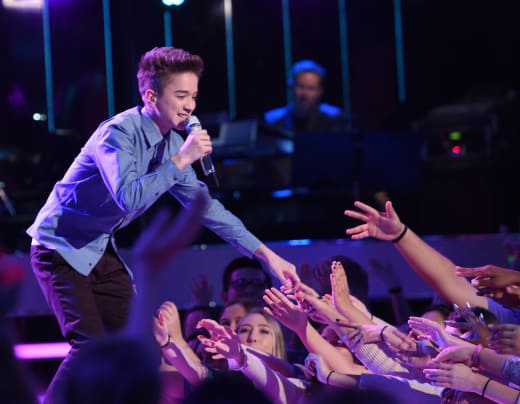 J.Lo is rocking the almond nails but I'm always afraid she's going to stab her own eyes out when she moves her hair out of her face.
Tonight the Idol contestants will sing the song they first auditioned with, so we'll all be able to see how far they've come. 
Sarina-Joi Crowe is up first, which begs the question, is she singing the very very first song she auditioned with? No. One Republic's "Love Runs Out" kicks off the night and YIIIIIIKES the sound mixing is TERRIBLE. Either her or her backup singers were way, way off pitch and that was just not fantastic.
Keith tells her to be careful with her pitch. Jennifer just keeps saying she's so excited and dittos the note on pitch. Harry says she's talented and he's looking forward to the competition. 6/10
Up next we have Rayvon Owen! He's channeling his inner Katy Perry with "Wide Awake." I love him, but he's also suffering from a weird mix problem where the volume of his voice and the volume of the band don't match. Get it together producers! Rayvon does a pretty great park and bark. I'd watch him sing again. 
Jennifer calls it sick. Harry says it sounds like his voice is in shape. Keith said he got exponentially better at the end. 8/10
Daniel Seavey is hanging in there and tonight he'll reprise Paula Abdul's "Straight Up." He's ditched the guitar and that's problematic for his opening notes, which are a little shaky. Once the verse gets going, and especially by the chorus, he's in the groove, and then he botches his place in the song. He recovers nicely though and works the crowd. 
Harry says this wasn't his most impressive performance and his youth is showing. Keith tells him to find an emotional song so he can kill it. Jennifer wants him to find the right song that plays to his strengths. 6/10
Country girl Maddie Walker is the next to hit the stage with "Suitcase." This is the best she's sounded yet, but the girl's eyes say she's on the verge of vomiting whenever she's singing. And she doesn't know what to do with her hands. (Why are none of them holding the microphone? What is up with this weird decision?) The ending is odd. 
Keith says the song suited her. Jennifer watched her getting into her head and advises against that. Harry says the same. 7/10
Tyanna Jones, who deserves this probably more than just about anyone, is safe. She's looking amazing tonight and sounding even better on "Wings." I love her energy, her voice, her style. Everything about this girl is fantastic. She's the one to beat!
Jennifer calls her phenomenal vocals and comfort on stage "striking." Harry and Keith back Jennifer up. Tyanna is super comfortable on the stage. She's a star. 10/10
Hottie Nick Fradiani is back with "In Your Eyes." He's the first to play his guitar, which is a good choice. There's something about stripping down the performance and just jamming that works for him, but again, when the band and backing vocals come in, things aren't synced up with his vocals. It's like the band just overpowers him and takes away from what he can bring to the stage. He gets lost in the performance, and not in a good way.
Harry says he brings a lot of experience to the stage. Keith loves his look and his voice but wants Nick to find some confidence. Jennifer calls it strong but wants him to pick a song where every single part suits his voice. 7.5/10
Jax is in and they've rolled out a piano for her to sing "I Want To Hold Your Hand." Her hair is looking well-toned this week and I'm still holding out for the moment she gets rid of that X on her face. She makes the decision not to stay behind the piano the whole time and gets up to go through the chorus standing up and actually holding hands with those in the audience. 
Keith wishes she'd stayed behind the piano but loved her musical choice to stand up. Jennifer's glad she's here. Harry didn't think she needed the band at all. 9/10
Her boy Qaasim Middleton is sticking around and has the opportunity to work the band and the crowd with "Sir Duke." Part of it is too low to even be able to hear him and he's moving and shaking and drops some beatboxing into the middle of the song, definitely making it his own. Vocally though, his singing isn't 100%. He hits some bum notes, but he's entertaining.
Jennifer calls his energy infectious and Harry wants to know if they'll ever get a performance that isn't so over the top. Keith thought he killed it. 6/10
Crooner Clark Beckham is safe for another week and there's no way he's going home after "It's a Man's World." I'm not sure there's anyone else in this competition who could sing this song as well as he sings it. He's beautiful and this performance is perfection. PERFECTION. Seriously. 
Harry loved it. Keith calls it killer. Jennifer calls it the vocal of the night. 10/10
Squeezebox player Joey Cook is sticking around too. She sings her audition song with the ukulele and this is her very, very best performance yet. She's quirky but perfect. Her vocals were spot on. She's so relevant and current!
Keith tells her not to be shocked that she's on stage. Jennifer calls it one of her best performances. Harry says that she might be finding a spot in this competition even though she's so stylized. 10/10
And with that, the Top 10 has been selected. The judges will now choose two contestants to fill the Wild Card spots for Season 14.
Their first choice is Quentin Alexander. "Royals" is pretty perfect for him, but this is a very ethereal musical arrangement. Vocally, he's on point and he's always looking fabulous. If singing doesn't work out, we'll probably see him designing clothes and having his own runway someday. He breaks down in tears at the end, so thankful to be there.
Jennifer says they can't wait to see all the colors he'll bring to the table. Harry loves how deeply in touch he is with his artistry, even though there were pitch problems. Keith loves that Quentin brings spirituality to his songs. 8.5/10
The final Wild Card singer is...Adanna Duru. She closes out the night with "You and I" while strutting around the stage and singing with as much energy as Qaasim. (I'm pretty sure everyone in the front row saw her bottom.) This girl has no idea what to do with her hands, and she struggles coming back into the calmer parts of the song after the bridge. She ends on a good note.
Harry wants her to find a way to channel her energy to a specific musical place because she's very out of tune. Jennifer wants her to hone her ability to perform. Keith gives her credit for being able to get her contestants up out of their seats. 7/10.
We're saying goodbye to Adam Ezegalian, Mark Andrew, Loren Lott, ​and Alexis Gomez. I'm most sad about losing Mark, but I might have been a sucker for his story. I can admit that. The other three weren't really good enough to be here. 
Daniel Seavey could be in trouble this week. So could Qaasim Middleton. He's only going to be able to pull that song and dance for so long before the audience gets tired of it. Nick Fradiani has to find some confidence. As the oldest person in the competition, he could bring a lot of experience and maturity to the competition, but only if he can believe he deserves to be there.
As for the girls, Sarina-Joi Crowe gave her least memorable performance of the competition so far and Maddie Walker continues to look like a deer in headlights. 
We'll be back here tomorrow night when American Idol Season 14 continues!
Miranda Wicker was a Staff Writer for TV Fanatic. She retired in 2017. Follow her on Twitter.