Blue Bloods Season 5 Episode 18 Review: Bad Company

Christine Orlando at . Updated at .
Just when I think I've got this show all figured out, Blue Bloods Season 5 Episode 18 comes along and manages to surprise me. 
Sarah's story was horrifying. A man murdered her entire family when she was just a child and Frank Reagan described the case as the single most disturbing crime he'd ever witnessed. From someone who's been a cop for three decades, that's saying something. 
But when Donald Berry sent Sarah a letter as part of the Restorative Justice program, I had a sick feeling. Donald's priest and his counselor's believed he had been rehabilitated. Frank wasn't buying it, but Baker had a different perspective. She believed that people could change. That there's always hope.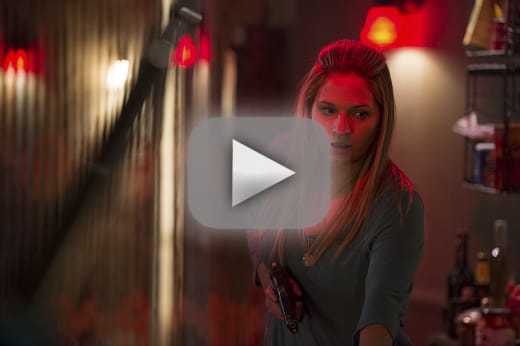 Is that true, even of someone who slaughters someone else's entire family? Even when someone tells a 7-year-old little girl in court that his only regret was that he didn't kill her, too? I'm with Danny on this one…
The really bad people, they don't change. They just come up with new ways to trick you into thinking they did.


Danny
It took a lot of guts for Sarah to go and face that man and I loved how Frank stood by her side, even when he was told he should leave because there was no protocol for such a thing. Some things are simply non-negotiable and he wasn't about to let Sarah face her demons alone. 
It turned out that Sarah did just fine, although Frank's presence probably helped. Donald explained about his undiagnosed mental illness. About his medication and counseling. About his suicide attempt, how he'd found God and how he now helps prisoners in crisis. About how sorry he was that he knew he could never "save" Sarah.
To be honest, I kept expecting this to turn into a story about how there should be hope for rehabilitation no matter what the crime, but then Sarah surprised me when she responded in this Blue Bloods quote…
If you're really sorry you will try and kill yourself again and you'll get it right this time.

Sarah
I literally laughed out loud. That was the last thing I expected Sarah to say, but a part of me loved it. I can't imagine who could look the person who murdered their family in the eye, the person who changed the course of their entire life in the most heinous way and offer forgiveness. Perhaps that type of person exists, but I know it's not me. I found myself cheering for Sarah. 
Henry introduced Erin to his new girlfriend Sylvia and Erin's antennae went up immediately. She had Alex look into Sylvia and I loved him all the more when he fed her "The Grandpa Killer" story. 
It turned out Erin wasn't overreacting. Sylvia had multiple aliases and an open warrant in Florida for grand larceny. I liked that she turned the information over to Henry and let him make the choice. Unfortunately, Sylvia was conning herself if she thought dating a former cop, who has an entire family in law enforcement, was a good idea. 
Elsewhere, Eddie got to make her mark in an undercover operation. When Danny explained that Eddie's name popped up when they searched for someone who spoke Serbian and also fit the profile they needed, I had to love when Eddie shot back, "I hope that means young and hot." Exactly. 
Jamie was worried, and with reason. He was almost killed during his first undercover operation and this one was thrown together pretty quickly, but his initial assessment of his partner turned out to be correct. She's smart and tough as nails. Not only did she manage to take the guy down in the bathroom (and I'll never look at the top of a commode the same way again), but she stopped Tatiana before she shot Jamie. 
Job well done and a stellar episode of Blue Bloods. My only very minor complaint was that the Reagan family dinner was much too short.
It looks like Blue Bloods is off next week due to basketball, but you can watch Blue Bloods online any time right here at TV Fanatic. 
C. Orlando is a TV Fanatic Staff Writer. Follow her on Twitter.