Chicago Fire Round Table: The Daughter
Paul Dailly at .
Even with a less than stellar episode, our TV Fanatics still have much to debate.
Chicago Fire Season 3 Episode 17 found the team facing one of their deadliest challenges yet, while Brett broke down about her relationship with Cruz. Will she stick with him, or go solo?
Join TV Fanatics Mary Kate Venedam, Stacy Glanzman and Paul Dailly as they discuss Mouch's daughter, hopes for Chicago Med and how persistent Mills is. Remember to chat with us in the comments with your take on the questions...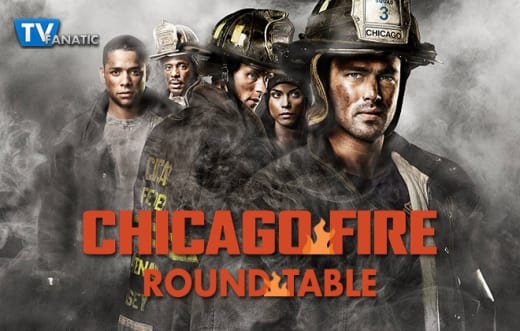 Mouch actually has a daughter. React.
Mary Kate: I thought it was an interesting twist. It was sweet how the more Mouch learned about his child the more he wanted to get to know her. I'm also a big fan of Platt's pep talk to him. I'm looking forward to seeing the new relationship develop.
Stacy: I like it. I think they can make interesting stories out of this and I can see him having a hard time relating to her. I also like Platt being incorporated into it.
Paul: It was a good twist. It went from a son, to a daughter in the space of one episode. It'll be good to see the relationship develop, but I see many complications in their way.
Favorite new character: Scott, Jack or April?
Mary Kate: I liked April. We didn't see her a lot, but I'm curious about her history with Severide. I also think she may have a history with Scott. She seemed a tad peeved when Severide mentioned him. If she's going to be the lead of Chicago Med, I'd watch.
Stacy: I think I have to go with April too. Severide has amazing chemistry with anyone and I'm also curious to find out more about their history.
Paul: I honestly didn't find any of them to be very good characters. I'm interested in seeing more of Jack. He seems like he could be a really good character, but he never had much material in his first outing.
Do you feel like Brett's complaints about her life with Cruz came out of nowhere?
Mary Kate: They definitely came out of nowhere. She has seen very happy with him for a while, so I was surprised by her change of heart. I think it may have to do with her growing friendship with Gabby who is now able to go out and have fun and I think Brett wishes she could do that.
Stacy: It did, but I don't think that's unrealistic. Brett let herself get comfortable with Cruz and that realization hit her out of nowhere. That happens sometimes.
Paul: This all just seemed so out of nowhere. Didn't she flirt with Mills when she first appeared on the scene? Her character can be really interesting at times, but then other times she can be one of the most annoying.
Speak a bit about Mills and his story this week.
Mary Kate: He's certainly persistent about wanting to get back on squad. I think he maybe pushing himself to be better faster because he knows the one spot for him is in jeopardy. That may not end well if he goes back too fast.
Stacy: I'm rooting for him. He deserves to get his spot back, but I have a feeling he's going to be impatient and try to lie about his results.
Paul: I like Mills, but I think his reaction to Scott getting the job speaks volumes about him. He could easily have waited and got a job when one becomes available. I understand it could take a while, but if the teams needs cover, he can't expect them to wait around for him to get the all clear.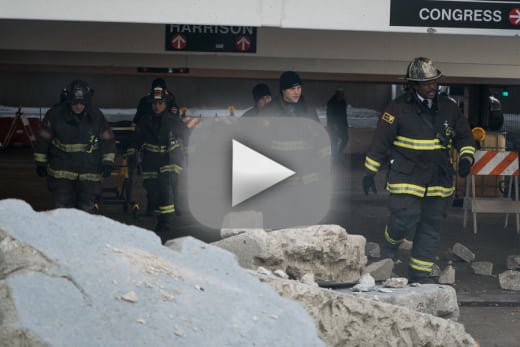 What are your hopes for the Chicago Med planted spin off?
Mary Kate: That they incorporate the Fire/PD characters into the series. I love when Halstead or Severide or whoever pops up in the different shows. I also love the crossovers! If there could be a Med/Fire/PD/SVU crossover story, that'd be awesome. Overkill, but I'd love to watch.
Stacy: I really don't think the brand needs a third show, but my hopes are simple: that it's good and that having a third show doesn't diminish the quality of the other two.
Paul: I think it has to set itself apart from the other two shows straight off the bat. Sure, it would make sense to have all the Chicago shows in one one big universe. There are a lot of possibilities for characters crossing between shows and I think the Chicago shows do it more seamlessly than any other shows have in the past.
Remember you can watch Chicago Fire online, right here on TV Fanatic. Get caught up on the drama now.
Note: Chicago Fire Season 3 Episode 18 airs Tuesday 17th March at 10/9c on NBC.
Paul Dailly is the Associate Editor for TV Fanatic. Follow him on Twitter.