Chicago Fire Season 3 Episode 16 Review: Red Rag the Bull
Paul Dailly at . Updated at .
Goodbye Pat, we won't miss you.
On Chicago Fire Season 3 Episode 16, Pat went too far and it almost cost Casey his job, but who saved the day?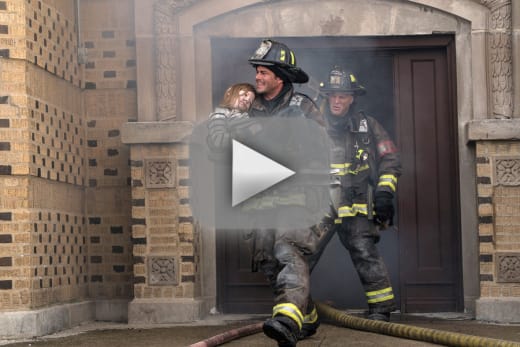 Oh, Welch. You'll certainly never have any real friends at Firehouse 51, but my respect for you has shot up a lot. I actually felt kind of bad that he had to leave his job after refusing to sign the bit of paper that would seal Casey's fate.
Pat really was a piece of work. In his short stint at the Firehouse, he made the whole staff hate their jobs. He literally mocked everyone and as soon as someone didn't agree with him, he would be their instant enemy.
The fire's under control.

Pat
Could you imagine Firehouse 51 without Casey? Neither can I. He's such an integral part of the show. I don't think Dawson would cope too well if he left.
Obviously, she was a bit annoyed after finding out from Welch about his hookups with Pat's ex wife and Brett took it upon herself to kick her back into the dating game... with someone from Chicago Medical. Will we be seeing him this fall on NBC if Chicago Med goes to series? Probably.
Stay with me. Stay with me.

Dawson
The double date was awkward to say the least. Cruz didn't even want to go because he felt like he was betraying Casey. I don't know why he would think that since Casey moved on first, so it was quite a dumb statement to make. I loved how jealous he got when Brett said she would just take Otis as her date since they knew each other first anyway.
Otis looked like he was thinking this through in his head and thinking he had a chance with Brett. It really was one of the most comedic scenes of the hour. The show should feature more scenes like this. They help brighten up the dark subject matter.
So... Mouch is a father! Yes, that totally came out the left field, but it is believable and it paved the way for a visit from out good friend Platt from Chicago PD. She reacted completely different to what I'd have expected from her. She embraced it and pushed her lover to go meet his son. To the surprise of no one, he didn't go to meet him. He got so close and chickened out.
He must of had a feeling of dread in his mind that this young man has grown up without him and only just learned of his existence.
Elsewhere, Donna wanted Boden back at work so she could get a break from him and let the Firehouse return to order after the recent scandals. I liked how she acted shocked and annoyed when Boden announced he was returning to work. If only he knew the truth.
"Red Rag the Bull" was a decent episode of this NBC drama. The thing killing the momentum is the staggered schedule NBC has for the show. I almost forgot it was back this week.
Other tidbits from the episode:
Where is Otis' grandmother? She's not been seen in ages!
Did anyone else think we were going to lose another series regular in that deadly shoot out? I don't want anyone else to die for at least another few seasons.
Will Welch return to Firehouse 51 now that Boden is back, or is he done with putting his life on the line?
Remember watch Chicago Fire online right here on TV Fanatic. Get caught up on the drama now!
What did you think of the episode? Will we see Welch again? What's next for Dawsey? Are you glad Pat's gone? Chat with me in the comments.
Note: Chicago Fire Season 3 Episode 17 airs Tuesday 9 March at 10/9C on NBC.
Paul Dailly is the Associate Editor for TV Fanatic. Follow him on Twitter.