Chicago Fire Season 3 Episode 18 Review: Forgiving, Relentless, Unconditional
Paul Dailly at . Updated at .
Poor Herrmann.
That's all I can muster after Chicago Fire Season 3 Episode 18 after Herrmann went above and beyond the call of duty to save a young boy who was trapped in a fire. You could really feel his pain as he set out on his mission to get justice for the fire.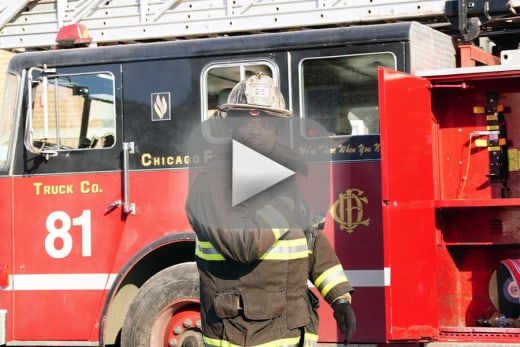 It was great seeing Herrmann on the front line for much of tonight. He's not had much to do in Chicago Fire Season 3. Clearly his parental instincts kicked in when he knew he had to save the boy. One thing that stuck out to me was Dawson leaving him inside. It looked like she lied to Boden and it wasn't addressed again.
The father was a nasty piece. The video of him taking drugs in the presence of his son was horrible. He wasn't a good parent and didn't deserve his son. He didn't seem remorseful about anything he did wrong. Sure, he played the grieving father at the crime scene, but that's what made it all such a shock when we found out the truth.
Brett's idea to dump Cruz backfired when he dumped her. It's obvious he only dumped her because he had a feeling she was going to dump him. It was hilarious when she was telling Dawson all about it.
It was a good idea for this relationship to end, because it will show a more fun side to Brett now that she doesn't have the burden of being in a relationship. I'm surprised we didn't see her and Dawson hit Molly's for some free beer.
Could anyone actually imagine Otis dating Brett? That would be a huge kick in the face to Cruz considering they are best friends. If he tries to pull a robbery on her then expect fireworks.
We got to know April since she was featured in a larger capacity as opposed to Chicago Fire Season 3 Episode 17. She is growing on me. I like the direction her storyline with Severide is taking. I think Severide's found himself a keeper. Her relationship with him should make for natural crossovers with Chicago Med if it goes to series.
I feared for Dawson's life when she was trying to free the girl who was crushed with the car. When she was under it and the flames appeared, I expected her to be badly hurt. Thankfully, the fire was extinguished.
"Forgiving, Relentless, Unconditional" was a decent episode. It set a lot of new storylines in motion that will shape the home stretch of Chicago Fire Season 3.
Other tidbits from the episode:
Mills finally got the all clear for squad, but will there be a job for him?
The acting from David Eigenberg in the role of Herrmann tonight was really powerful. I'm sure everyone shed a few tears.
Did anyone else miss Platt? She should be on every episode of both Chicago Fire and Chicago PD.
Remember you can watch Chicago Fire online, right here on TV Fanatic. Get caught up on the drama now!
Note: Chicago Fire Season 3 Episode 19 airs Tuesday April 7th at 10/9C on NBC.
What did you think of the episode? Was Herrmann right to do what he did? Will Dawson's lie come back to haunt her? What's next for April and Severide? Chat with me in the comments.
Paul Dailly is the Associate Editor for TV Fanatic. Follow him on Twitter.